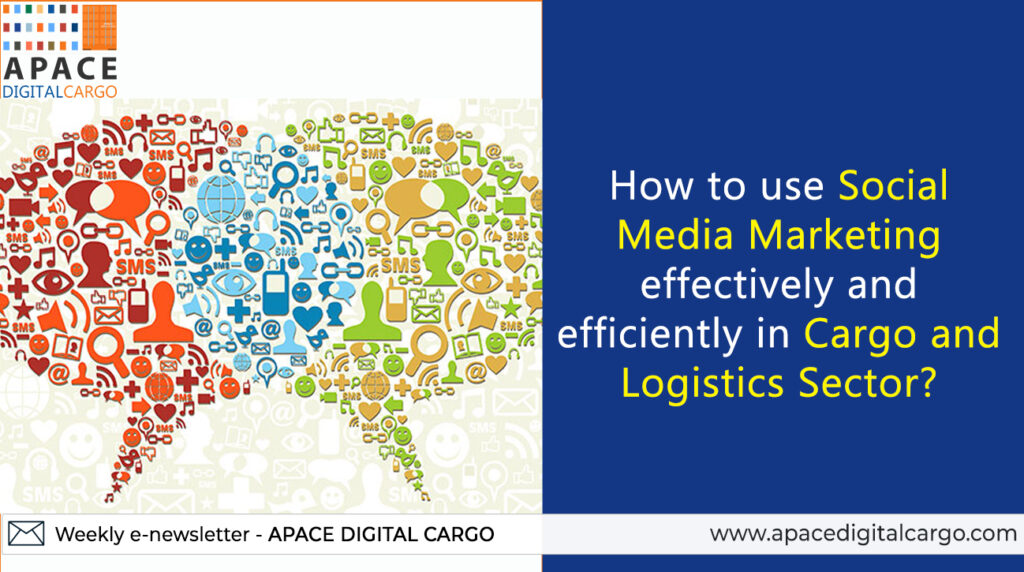 Social Media… well what one can say about it? Today, it has become the necessity of life – be it to share your parties, family holidaying or a new job. Who thought that the scope of its expansion would have been so rapid that now there are about 3.48 billion active social media users across the globe and it has become one of the most powerful communication tools to start your business, expand your business and bring the business closer to your customers and help them earn customer loyalty? Be it any sector of the industry or any kind of an organization, social media has an important role to play. Some sectors like FMCG, travel & hospitality, aviation, or textiles are making very good and productive use of this platform, however there are some sectors which are still lagging behind to make most of it and one such sector is cargo and logistics industry.
No doubt that the acceptance of social media in cargo & logistics industry is gaining, but on the worldwide level. If we see the Indian market, it is still a long way to go. It is still quite unclear how many companies deal in cargo and logistics sector use social media, what people actually think of it, accepting it to which extent and its usefulness in a B2B (business-to-business) environment. Considering the environment, I, Manoj Upadhyay – Director, Apace Digital Cargo, forayed into this domain, started gauging (even still!) the mood of the industry – no matters whether it is a public enterprise or a private entity – towards the acceptance of social media for their business growth. In the logistics and cargo industry, social media is used as a tool for business only. There aren't any interactions with customers. Companies are unaware of the parameter of social media comments about services or even the system. These tools might pose helpful information for the freight forwarder and its management. First and most importantly, online platforms can definitely improve the communication between the supplier and the customer. The supplier can get direct feedback regarding its services and the customers' demands. This will result with an improved customer service. Next, social media enables better communication within the whole supply chain. This can greatly contribute to the complete management system, increase productivity, and save time and money. Lastly, social media networks are a great way to become more visible on digital media, helping promote your business worldwide. It also helps reach potential suppliers in same or different markets.
So for this, some of the following points need to be in consideration –
Promotions through social media should be done thoughtfully and strategically. Simply setting up a company Facebook page will achieve little to no results.
You also need to determine who you want to market to, why you want to market or engage with them, how you will market to each set of people, and which tools you will use to reach them. These decisions aren't made overnight; it is a complex process, as is any facet of a solid marketing plan.
Facebook, LinkedIn, Instagram and Twitter are great ways to connect, but the key to achieving results with these outlets is creating content that inspires and connects your audience to you and your brand, and engaging with your audience regularly.
Benefits of advertising online: Cost Efficiency; Measurable Results; Promoted to a Targeted Market; Flexibility; Convenience and most importanct Your  Competitors are Advertising Online!.
Each business's goal is to make a profit. From the supply chain perspective this goal can be achieved through increased efficiency, improved customer satisfaction and minimize operational costs. Social media can contribute to this. So being from the digital marketing background, worked in different domains (from FMCG to aviation, from travel & hospitality to personal blogs and from government department to fashion) in the last one decade, I forayed into this emerging sector of cargo & logistics to bring a digital boost into the sector. So connect with us to take your business a step ahead digitally withour exclusive services for cargo & logistics trade which are  as follows
Software development

Supply Chain Management (SCMS)

Website design and development
Cloud Services
Digital Marketing

Search Engine Optimisation
Please connect with us for any of the above required services and boost your digital presence with us.
Apace Digital Cargo – Swiftly and Digitally
Manoj Upadhyay
[email protected]
social media marketing, social media marketing for cargo and logistics, digital marketing for cargo and logistics industry, need of social media marketing in cargo, logistics and warehouse industry, website development for cargo companies, social media marketing, digital marketing, website development, search engine optimization, cargo and logistics industry report 2019, 2019 social media report, social media for cargo and logistics industry, power of social media, IT support for cargo and logistics industry, emerging social media trends, emerging industry for social media, new trends in social media, new sectors implementing social media strategy, social media and logistics industry