Day 2 of ACAAI convention 2019 – New topics, New sessions, New approach towards business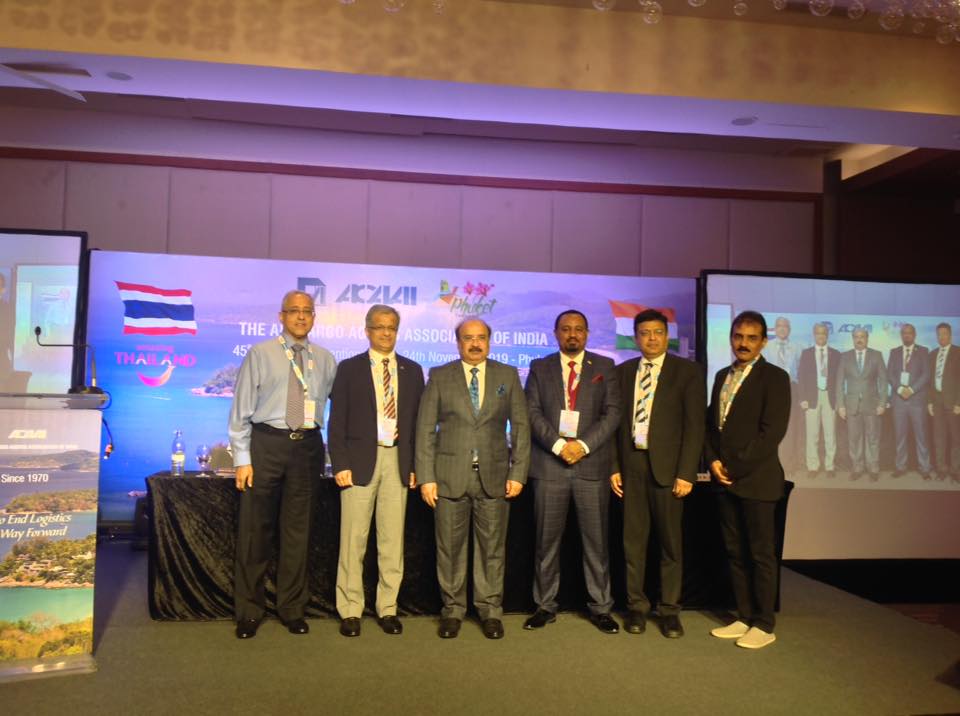 Turn the curtains side, allowing the bright sunlight coming inside the room and soothing your eyes seeing the blue waters and blue clear sky till the point you can see; such a fresh and positive morning at The Westin Siray Bay Resort Phuket brought the same freshness and positivity to the convention hall, where the Day 2 of the ACAAI convention began on a positive note. Chaired by Sunil Arora, President ACAAI, the first business session on 'Logistics in India – Air Freight' brought all the stakeholders under the one umbrella – Dr Anil Chinnabhandar, Senior Vice President – SCM & Planning, Landmark Group presented the customer side; the freight forwarding is presented by Keshav Tanna, Director, Links Forwarders; Vijay Kumar Sharma, Head Cargo, Delhi International Airport presented the terminal operator side and Tadesse Tilahun, Regional Director, Indian Sub-continent, Ethiopian Airlines shared the airline experience.
The e-commerce and retail sector is on the boom and so brings a huge opportunity for the cargo fraternity, this is what Dr. Anil brought to the table but in a very interesting manner. He changed the very famous notion completely, saying that today my customer is not a king, but a queen. "We are growing 30-35 per cent CAGR for the last decade. There is huge opportunity on the logistics side. We have come out of the traditional systems of cargo operations and have evolved to seek the next level of opportunity. The size of e-commerce market is 18 per cent and it is a very opportunistic market because here customer is involved who wants nothing other than a perfect delivery. So that 18 per cent is there for us (freight forwarding industry). Our customers want be see me, feel me, touch me, and demand my services anywhere. Today my customer is not a king, but a queen. She is the customer in this e-commerce world. She sits in the lounge of her house and demands a perfect delivery at the destination or doorstep. Actually, she runs the retail model. If a medium size fits her, she might order – small, medium and large, all three; she will try until she takes a perfect selfie, post it on the social media and get for likes! And here is a big opportunity for the retailers. So we have come out of the traditional systems and following the omni-channel retail."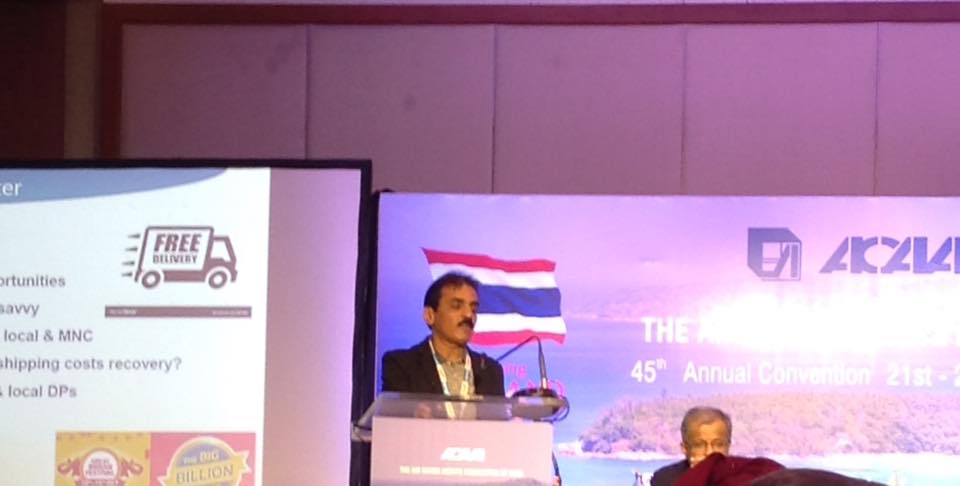 For him, the first and foremost priority is delivery and it is be quality delivery and then comes the bread and butter, i.e. money. "For me, three things are very important – service, quality and cost. Considering these points, ACAAI can come up with a comprehensive approach and connect the dots in the world and contribute to the e-commerce and warehousing."
Moving on from retail to the vital intermediary – Freight forwarder; Keshav Tanna took us to the global perspective and to some ground realities. He talked about the global air freight and the impact of it on the economy. "We have come a long way in terms of the economics of air cargo. In 1997, we were at USD 40 bn industry and in 2017, we reached at USD 100 bn industry; which is almost triple in the two decades. However, 2018 and 2019 were not too favourable years and not much has changed in the figures."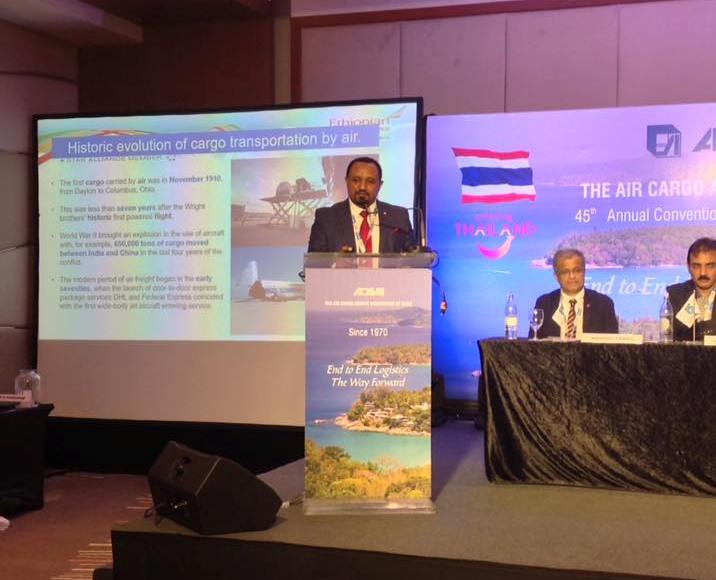 He further said, "In 2017, we ended up with 9.5 per cent growth rate. In 2018, the situation gradually faded followed in 2019. Besides Africa, other continents are facing decline. By the end of 2019, our air freight growth stands at the negative side of about 4 per cent on. So we need to change the business model. There is a dire need for the adaptation of digitalisation, e-commerce. We need to adjust our business models and become the part of the boom. We need to do long term investment in digitalisation, we need to be automated and continuously invest in technology. Drone deliveries can be the future as in Europe, many associations are actively promoting these technologies. This all will take time and will come."
On this positive note, he updated the members with vital information that ICAO has reviewed the limit of liability in Montreal Convention 1999. As a result, there is a revision from 19 SDR to 22 SDR, effective from the 28 December 2019. India is signatory to this.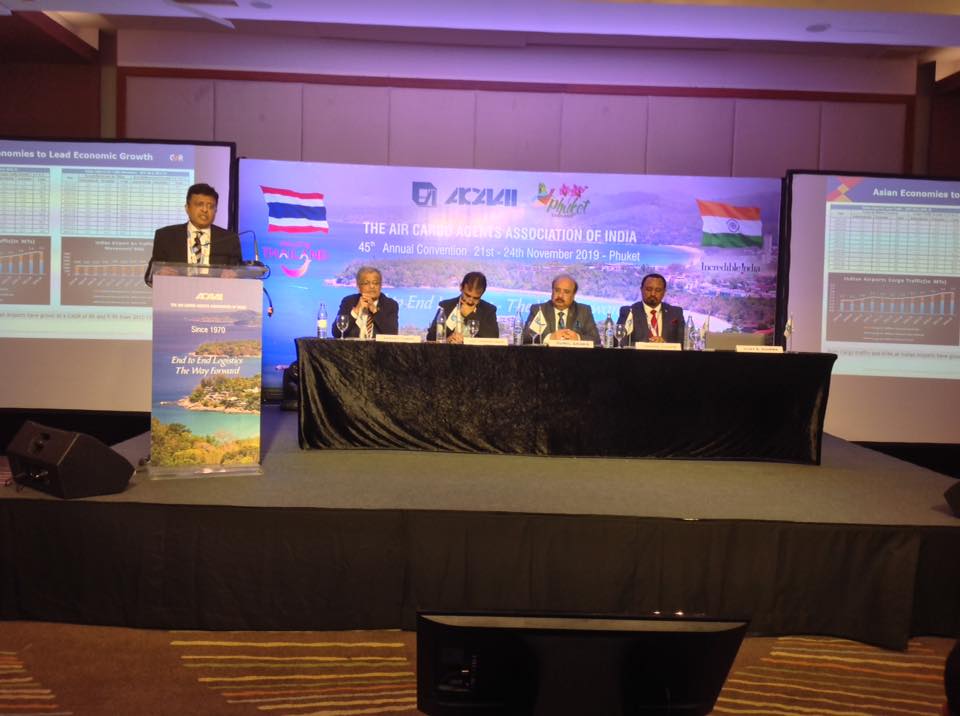 Taking forward the same mood on the positive path, Vijay Sharma from DIAL also showed the picture of hope and positivity for the sector. "As per the economic indicators, there is a slow growth but the positive thing is that lots of potential is coming up, opportunities are coming up. India is going to be an attractive destination because of three factors – growing customer market, the infrastructure growth and India talent. There is a growth in the last 5-7 years in air traffic movement. We need to have an efficient infrastructure, operational excellence for dwell time, and strong connectivity. And a terminal operator cannot work on this alone. This has to be collaborated. We need an integrated approach. We need to be quality adhered. Like in the passenger side, we have ASQ by ACI for quality check; similarly, TIACA has come up with quality performance check tool, which is again a positive move towards a long term growth." Tadesse Tilahun too maintained the optimism and shared some experiences of Ethiopian and African air freight market and while coming to the end of the session, he invited the fraternity to Ethiopia and showcases some tourism gems of the country.
The next session on 'Logistics in India – Sea Freight' was the first of its kind at the ACAAI convention as earlier no session was conducted on other mode, apart from air freight. But considering the multimodal role and connections between different modes of transport, this session also presented some key nuances of the sea freight sector which are surely of an help and insight to the air freight industry. Each and every speaker in this session brought some interesting points on the table. While Krishna Kumar, SVP, MSC Agency (India) took us into indepth details about the shipping freight; Sachu Simon, CEO-Asia Pacific, ECU Worldwide, gave us insight into NVOCC and Mark Fernandes, Partner, Sylvester & Co, talked about the customs and government support. And the "sea of knowledge" Capt. Dinesh Gautama, CEO, Navkar CFS amzed everyone with is knowledge on tips with the proper timeline about the origin of containerization, the growth and current scenario.
Talking on such two key and heavy topics, it was the time to go beyond and talked about some elements which are simply not ignorant. Hassan Sabahudheen, CEOfficer, Ciber Digita Consultants LLC (CDC) talked about cyber crimes and cyber security; Jatin Pore, Partner of DSK Legal, Advocates and Solicitors threw some light on dispute resolution and redressel; and, Kyle Yokeum, Director, FreightDeadbeats talked about the debt recovery.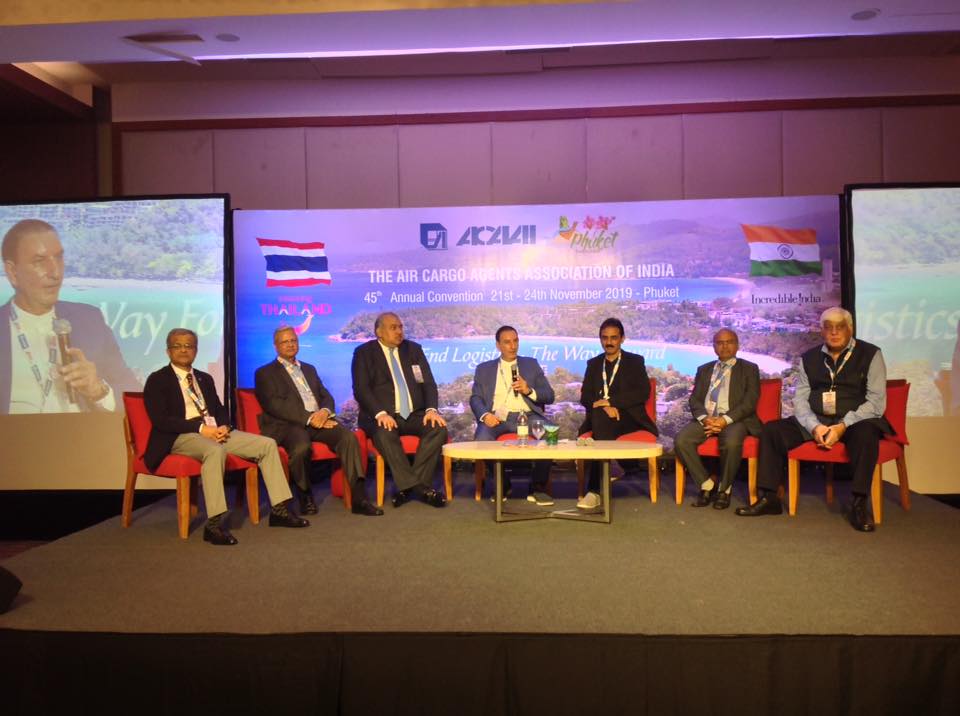 And to end the day on a lighter note, the last session was of engagements, sharing experiences by the 'gyaanis' (experienced veterans of the industry) and therefore it was named as "Gyaan Gurus". Twelve know-how of the industry came to the dias and shared their experiences on different topics – from family business to CRS activities to evolution from traditional methods to modern approach and it was very well chaired by Sam Katgara, Past President & Member, Board of Advisor. And this called for the day with good, interactive sessions and engagement. Stay tuned with APACE DIGITAL CARGO for more live updates, sessions updates, key discussions at Facebook, Instagram and LinkedIn (APACE DIGITAL CARGO).