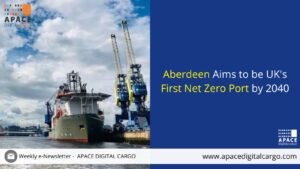 The Port of Aberdeen will invest £55m over the next 10 years in a bid to become the UK's first net zero port by 2040, it has been announced. The aim is to reduce emissions and promote low carbon alternative fuels. The port said it had already taken action to reduce the environmental impact of its operations on quaysides, such as electric vehicles and installation of LED lighting. Future plans include trials of treated vegetable oil for port-owned vessels.
The launch of the Port of Aberdeen's net zero strategy has the aim of delivering the UK's first net zero port, according to its chief executive Bob Sanguinetti.
"Our vision is to become Scotland's premier net zero port, offering world class facilities and services, at the heart of the nation's energy transition," he said. "We must be bold and ambitious to achieve this.
"Strong partnerships and investment across the public and private sectors are essential to deliver this transformational change which will deliver significant benefits for the environment, local communities, and wider maritime sector.
"Port of Aberdeen can play a pivotal role in the emergence of green economic growth in the wider maritime industry and support new, high-quality jobs."
The new deeper and larger Aberdeen South Harbour has been the largest marine infrastructure project in the UK. It has seen £400m being spent to allow work including offshore wind, hydrogen, and decommissioning. It will also be able to accommodate cruise ships. Mairi McAllan, the cabinet secretary for net zero and just transition, described an efficient and effective offshore energy sector as "crucial for a robust economy".
She said: "I very much welcome Port of Aberdeen's net zero strategy and congratulate them on making this important investment in their future.
"The Scottish government is committed to the decarbonisation of the transport sector in a sustainable way, and the maritime sector has a vital role to play. "