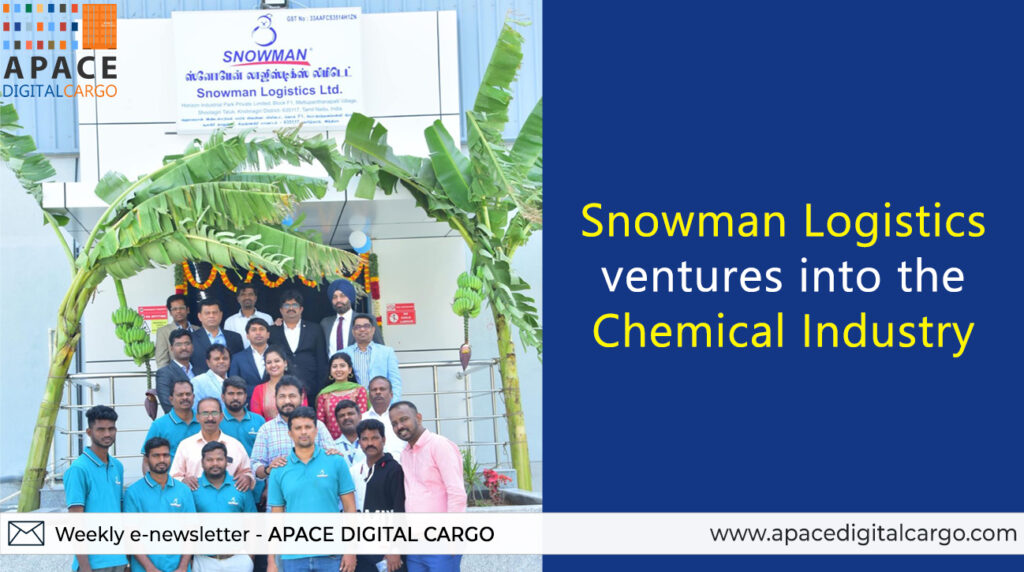 Snowman Logistics, India's leading temperature-controlled logistics services, has established its first ever A-Grade dry warehouse for the chemical industry in Shoolagiri, Tamil Nadu. This marks the company's first venture into the chemicals sector and into storing and distributing hazardous chemicals. Snowman Logistics has partnered with BDP UGL Global Logistics (I) Pvt. Ltd., a world leader in automobile chemicals, and plans to expand to serve other chemical customers in the future.
The Shoolagiri facility, located in Horizon Industrial Parks Pvt. Ltd., boasts 50,000 sq. ft. of warehouse space with a capacity to store 5,500 MTs and is equipped with G+5 racking. It is fully equipped with modern storage and handling equipment and is equipped with a 24-hour monitoring system and fire protection for the safe storage of goods. Additionally, the warehouse is equipped with advanced technology to ensure efficient and secure storage solutions.
Commenting on its new business line, Mr. Sunil Nair, CEO of Snowman Logistics says, "Being a market leader in the cold chain space for over three decades, we have come out of our comfort zone this time. We are very excited to serve and grow in this new segment and are committed to continuing to provide our customers with the highest quality services in the Chemicals space, as well." He further added, "We are looking forward to working with BDP UGL Global Logistics (I) Pvt. Ltd, which is one of the world leaders in automobile chemicals and together implementing global standards and practices and developing world-class capabilities for storing and distributing hazardous chemicals in the region and beyond."
Speaking on their association with Snowman Logistics, Pavithran M Kallada, Managing Director, BDP India, says, "With our expertise in global chemical supply chain management and in-depth domain knowledge in dealing with chemical clients, we are expanding our capabilities in contract logistics. While we continue to add value to our global customers in the Chemical sectors, we will also expand into other industries. The most important objective for BDP is to create a culture of compliance-focused contract logistics eco-system with our business partners."
Manish Chaturvedi, Regional Director, BDP India, says, "As we consider expanding our warehousing and contract logistics space in India, finding a partner with the same value systems is crucial. As we sought to expand our solution offerings for our large chemical customers in the south of India, we were pleased to find a partner like Snowman, who has a focused approach to infrastructure creation and shares the same values as BDP. This partnership is so exceptional because we were able to bring this fully compliant chemical storage facility from concept to operation within 100 days."
Snowman will operate the warehouse 24 x 7 and provide transportation services with a solid process mechanism. A central team of professionals will continuously monitor their services end-to-end, from the first to the last mile, ensuring that the client assets are safe at all times.