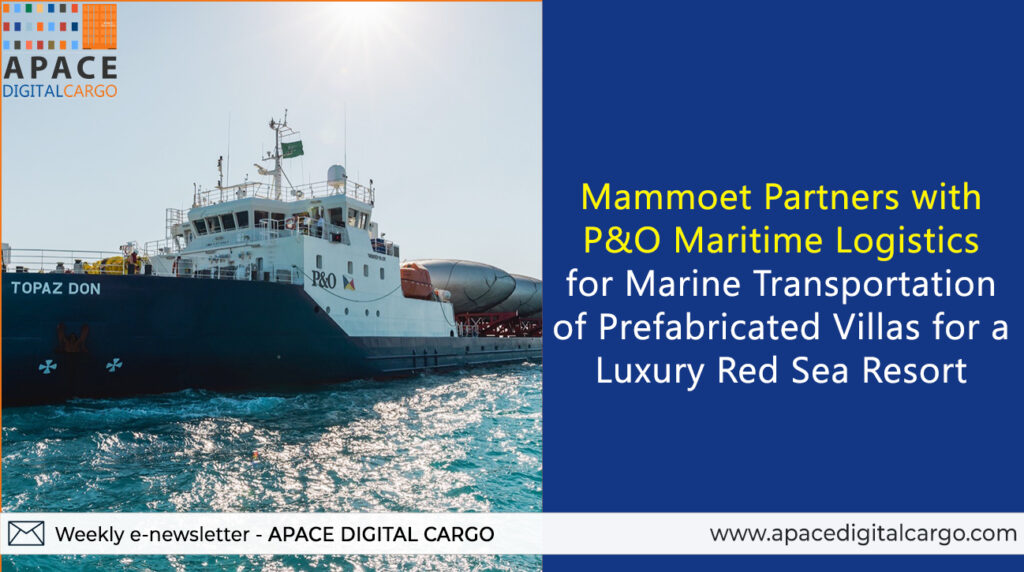 The leading provider of critical logistics and marine solutions, P&O Maritime Logistics, will be using its versatile MCV (Multi Carrying Vessel) fleet for transporting off-site manufactured pre-finished volumetric hotel villas to the Sheybarah Island Resort on Saudi Arabia's Red Sea Coast.
P&O Maritime Logistics has signed a new contract with global heavy lifting and transport specialist Mammoet to transport the unique hotel villas, all the way from Hamriyah to the Sheybarah Island Resort. The two companies are supporting Red Sea Global in its ambitious project, which champions regenerative tourism and sustainable development in the Kingdom.
The MCVs selected for the project were serviced in dry-dock facilities before the contract in order to limit their possible impact on local marine life – and their ballast systems were filled with water from the Red Sea to reduce the chance of introducing foreign organisms. Additionally, the shallow draft of MCVs and with the versatile thruster arrangement used on P&O Maritime Logistics vessels mean that there will be minimal disturbance of the shallow seabed.
Martin Helweg, CEO of P&O Maritime Logistics, said:"As a company headquartered in Dubai, we regularly operate in the Red Sea and around the Middle East. It is particularly exciting that our MCV fleet has been so successful in this region on a variety of projects. We are also delighted to be supporting Mammoet in the development of the Sheybarah Island Resort, as part of Red Sea Global's Red Sea mandate. Sustainability is at the heart of our business, and transporting the villas is just one example of how we are increasing our capacity for projects that promote sustainable development."
Jad Ayoub, Project Director for Mammoet said: "We are pleased to have P&O Maritime Logistics supporting us with the shipment of villas for the Sheybarah Island Resort. We have selected P&O Maritime Logistics for its vessels with shallower drafts that will have minimal impact on the sensitive marine environment of the Red Sea. With Mammoet's ongoing commitment to sustainability and sustainability being the vision for the project, it was crucial to partner with a company that ensures their operations and values are aligned with ours."