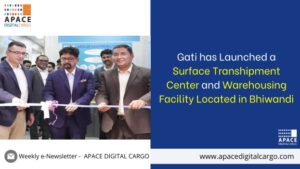 On April 6, Gati, a subsidiary of AllCargo Logistics, unveiled a technology-enabled surface transhipment center and distribution warehousing facility in Bhiwandi, Maharashtra.
Covering an area of 148,000 square feet and having a grade A rating, the facility will cater to various industries such as heavy engineering, pharmaceuticals, automotive, apparel, and electrical equipment, according to a press release by the company.
The launch of this facility is part of Gati's larger scheme to set up twelve modern surface transshipment centers (STCs). After the successful launch of advanced hubs in Nagpur, Guwahati, and Mumbai's Farukh Nagar, Gati intends to open similar facilities in Bengaluru, Hyderabad, Indore, and Kolkata to improve its supply chain and warehousing capabilities.
The company said, "With a workforce strength of 276 people, the Mumbai mega distribution hub is a terminus for Mumbai and Navi Mumbai to cater to short-haul or regional distribution as well as consolidate-sort-dispatch of long-haul loads for the rest of the country."