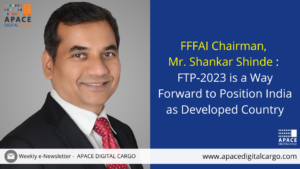 Congratulating the Ministry of Commerce, Government of India for unveiling the 'Foreign Trade Policy-2023 (FTP-2023)' on March 31, 2023 Mr. Shankar Shinde, Chairman, Federation of Freight Forwarders Associations in India (FFFAI) said that it would build trade confidence and would be a way forward for moving India from developing to developed country. In his opinion, the FTP has been well articulated for exim trade on long term growth and is progressive in nature.
"This will change the mindset of trade to professionalize their business and create strong business foundation through four pillars in terms of recovering in form of remission and not really depend on subsidies, progress with collaboration, cooperation and support ease of doing business It would further create new opportunities covering new untapped geographical areas to meet the exports target of 2 trillion dollars by 2030," Mr. Shinde observed.
He also praised that FTP 2023 introduced a digitalization platform to integrate with single window business platform which aims at process re-engineering and automation to facilitate ease of doing business with codified implementation mechanism in online environment to result in system based paperless, faceless, contactless with seamless processes for creating trust based environment.
Moreover, FTP encourages recognition of new towns through "Towns of Export Excellence Scheme" and exporters through "Status Holder Scheme". It aims at building partnerships with State governments and taking forward the Districts as Export Hubs (DEH) initiative to promote exports at the district level and accelerate the development of a grassroots trade ecosystem. "This will leverage exports through State infrastructure development, Capacity building with state collaboration," the FFFAI Chairman said.
Commending the Government's initiatives on strengthening the exim trade ecosystem, Mr. Shinde pointed out that the FTP would attract investment creating employment opportunities to achieve export target, including services and merchandise exports of US$ 750 Billion for this Financial Year to create India as a Global Manufacturing export Hub.