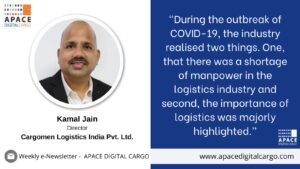 Apace Digital Cargo had an exclusive interview with Kamal Jain, Director, Cargomen Logistics India Pvt. Ltd. to know his insights on the cargo industry with regards to the company's overall strategy for growth, current focus areas, expansion plans, skill development, skill gaps, view on digitisation and automation. Here are the excerpts-
What is Cargomen's overall strategy for growth and success in the logistics industry?
Our strategy is divided into 3 categories. First one is related to the increase in demand in the upcoming days. We have started in-house skill development where we will developing skills of our own company's people, interns and even people from the outside industry. Second one is technology. We'll be using different kinds of tools related to reporting, automation and tracking which will enable us to handle higher volumes. Third one is expansion plans in locations where we have our existing clients or where we figure our potential clients will be.
What specific areas is Cargomen currently focusing on to enhance their services and customer experience?
We realise with our own experience that expertise in a particular sector helps us in getting more business which leads to our clients being serviced in a much better way. We were experts in ITITS (Information Technology and Intelligent Transportation Systems) business, whether it's in special economic zone or 100% EOU (Export Oriented Units), expertise in pharmaceuticals, in exhibition cargo, in mover schemes and various other schemes of government of India. In the upcoming days, we'll be focusing more on cold chain, pharmaceuticals and perishable industry.
Can you tell us about Cargomen's plans to expand operations in South Asia? Which countries are you targeting and what challenges do you anticipate?
We realised that a lot of manufacturing of our existing clients is happening in Vietnam and Thailand and hence we are planning to expand in Vietnam and Thailand. Cargomen already exists in Singapore.
In light of increasing digitization and automation in the logistics industry, how is Cargomen staying competitive and adapting to changing market trends?
We have been one of the early adapters of ERP (enterprise resource planning) – a cloud based solution and have been using that since 2009. Technology and Automation is an ongoing and continuous process which will never end since it's an evolutionary activity which will keep on happening. We realise that without the adaptation of technology and automation, we will not be able to handle the bigger volumes which is eventually required for the growth in the cargo and logistics industry. In terms of competition, we believe that ultimately this is a people-centric business where the customers prefer to know who is going to serve them. Technology can act as an enabler and the tool but it can not be a replacement of a human being in terms of the customer relationship.
Can you speak about Cargomen's association with Air Cargo Forum India?
I am the Vice President of ACFI Hyderabad Chapter and this is a forum inclusive in nature and represents all stakeholders of the logistics and EXIM community, whether they are custodians, forwarders or CHA, ACFI does all kinds of policy advocacy and skill development for the same.
How do you foresee logistics in terms of reducing the skill gap?
During the outbreak of COVID-19, the industry realised two things. One, that there was a shortage of manpower in the logistics industry and second, the importance of logistics was majorly highlighted. Most of the start-ups that are related to the product delivery or the market place, ultimately need logistics industry for their survival. The difference between them and other service providers can be majorly figured from logistics only. This industry and people have realised the importance of logistics hence it will always grow further and this gap will reduce since more number of people are inclining towards this industry keeping in mind how universities are also providing courses related to cargo and logistics now which wasn't the case earlier.