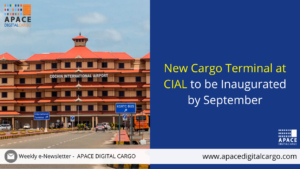 The Cochin International Airport Ltd (Cial) is on the verge of becoming a prominent cargo hub in southern India. This is due to the near completion of its international cargo terminal, which will be officially opened by September.
As a result, Cial's daily capacity for handling international cargo will increase by at least 100 tonnes. Currently, Cial can handle up to 150 tonnes of cargo in the international sector. However, with the completion of the new terminal, the daily handling capacity will be increased to 250 tonnes. Cial's business diversification plans were a driving force behind the project's construction, as they anticipated a significant increase in the volume of cargo passing through Kochi in the future.
This project will undoubtedly boost Cial's revenue from international cargo and ensure smoother and faster cargo movement in the coming years. The terminal, which spans four floors and covers 14,195.48 sqm, will be the largest cargo terminal in the state, with modern facilities for packaging, warehousing, cargo handling and storage. According to Cial sources, the terminal's structural work has been completed, and the project is on track to meet its schedule.
The terminal will incorporate automated machinery and systems to minimize manual handling and increase the speed of cargo movement. Furthermore, to ensure security and prevent smuggling, advanced scanners will be installed to detect any abnormalities. However, a challenge for Cial's development as a cargo hub is the civil aviation ministry's decision in 2020 to limit non-scheduled freighter operations by foreign carriers to only six airports in India, none of which include Cial. This poses a challenge as foreign airlines currently transport a significant portion of international cargo to and from India.