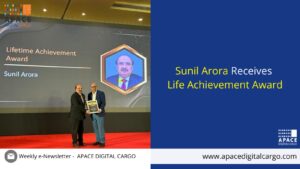 We are thrilled to announce that Sunil Arora has received the Life Achievement Award from the Institute of Supply Chain Management (ISCM) at The India Logistics and Warehousing Excellence Awards – 5th Edition. The award was presented to him by Dr. Rakesh Paras Singh, Chairman, ISCM.
Sunil Arora is a distinguished figure in the logistics and freight forwarding industry with an illustrious career spanning 30+ years. He has held various senior positions and is renowned for his expertise in management, international logistics, air, shipping, and intermodal transport.
He has been associated with various industry associations, including being the immediate Past President of ACAAI – Air Cargo Agents Association of India, Senior Advisor to DCBA- Delhi Custom Broker Association, Past President ACCD- Air Cargo Club of Delhi. He has also represented the industry on several high-level committees of the Government of India and industry associations.
We extend our heartfelt congratulations to Sunil Arora on this prestigious award and commend his exceptional contributions to the logistics and freight forwarding industry. We wish him all the best for his future endeavors.