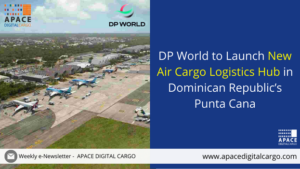 DP World and Grupo Puntacana have announced their plans to establish a new air cargo logistics hub in Punta Cana, Dominican Republic, which will boost the nation's position as the largest trade and logistics hub in the Caribbean.
"The new facility is being created through an agreement between DP World and the Punta Cana Free Trade Zone (PCFTZ), a company of Grupo Puntacana," says a release from DP World. "It will include a new logistics centre and infrastructure platforms capable of supporting multimodal air, land and sea cargo. Operations are expected to commence in late second quarter 2023."
According to the statement, the logistics hub will utilize DP World's vast expertise in multimodal cargo management and global logistics operations, along with the Punta Cana International Airport's excellent connectivity to global distribution centers. DP World has been operating at the Punta Caucedo peninsula port facility in the Dominican Republic since 2003, which is an advantageous location for cargo redistribution to the Caribbean, the United States, Central America, and South America.
As per the announcement, the agreement will initiate the implementation of a strong regional commerce strategy aimed at increasing the flow of import and re-export cargo to and from significant global commercial, industrial, technological, and agricultural markets. "The project also aims to generate greater investments in logistics services, increasing demand for logistics-related labour and triggering growth and diversification in the economy of the Dominican Republic."
Morten Johansen, CEO, Dominican Republic, DP World said, "This new air cargo logistics centre with Punta Cana Free Trade Zone allows us to expand the range of services we can provide to our increasingly diverse customer base and help boost the country's competitiveness. The facility will place the Dominican Republic on the world map as an air cargo hub for an increasingly broad range of products from around the region. Our objective is to form alliances to increase connectivity in the nation and across the region. The more connectivity we can generate, whether by air or sea, the more attractive the Dominican Republic becomes for manufacturing and logistics companies in the Americas and beyond."
Frank Elías Rainieri, Chairman and Founder, Grupo Puntacana said, "This new air hub venture allows us to leverage the expanding transportation infrastructure of Punta Cana and accelerate the Dominican Republic's transformation into the most important logistics hub in the region. Both DP World and Punta Cana International Airport are regional leaders in the airport, maritime and logistics sectors, and this project will be a unique opportunity to boost the economic and social progress of the Dominican Republic."