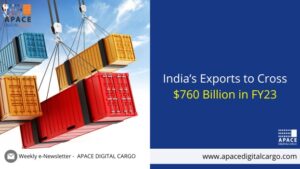 According to Commerce and Industry Minister Piyush Goyal, India's exports of merchandise and services are projected to surpass $760 billion by the end of the current fiscal year, which ends on March 31. In the past year, exports rose from $500 billion to $676 billion in 2021-22. Goyal made these remarks during Assocham's annual meeting, stating that India is performing well despite global challenges such as a recession, high inflation, and increased interest rates.
Goyal emphasized that for the past 9 years, the Modi-government has prioritized laying the groundwork for sustained economic growth by implementing measures that enhance India's cost competitiveness. These measures include significant investments in infrastructure and logistics, technological advancements, and initiatives such as PM GatiShakti.
According to Goyal, India's performance in global trade has surpassed expectations, with current exports reaching $750 billion in the country's 75th year of independence. He expressed gratitude for everyone's efforts and projected that the fiscal year would conclude with total exports (merchandise and services) around $760 billion.
The minister also said the FTAs (Free Trade Agreements) with the UAE and Australia have been welcomed by the industry. The speed of India's FTAs did not come at the cost of compromising the quality of agreements and it was done after extensive stakeholder consultation, he noted.
"We have a string of countries from across the globe wanting to engage with India today to expand and deepen ties," Goyal said and added the world recognises the delta of opportunities that India offers. Leveraging on the G20 Presidency and the edge India has today, the need of the hour is speedy and aggressive outreach to global markets with focus on investment, trade, technology and tourism, the minister said.