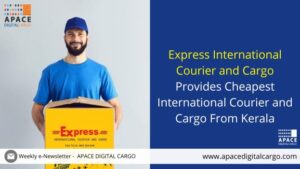 Express International Courier and Cargo is a top international wholesale courier and cargo provider in Kerala, which specializes in delivering a broad range of products that other couriers do not offer. Their goal is to offer cost-effective and duty-free cargo services from Kerala to any part of the world. With each delivery, the company aims to bring people closer together by delivering homemade happiness at affordable prices and within a reasonable time frame.
Express International Courier & Cargo is an UAE-based MNC operating in Kerala, Tamil Nadu, Bangalore & Mumbai, which is committed to delivering timely and dedicated service. They offer a wide range of services, including international express deliveries, global freight forwarding by air, sea, road, and rail. Their services also include international document delivery, parcel delivery, cargo service, excess baggage delivery, medicine delivery, warehousing, and delivery of homemade food items such as beef pickles, fish pickles, prawn pickles, and homemade masala abroad. They take great care in handling packages to preserve the homemade food's flavor and quality during delivery.
Express International Courier & Cargo is a leading and innovative international courier service provider that has earned the trust of millions of Indians. They are one of the best courier partners in Kerala, and the only International Home Made Food Delivery Company in the industry. The company has developed expertise in storage and distribution processes, customs clearance procedures, and network management. They have a dedicated team of professionals, industry experts, and employ innovative digital operations to streamline the logistics and customise logistics according to the clients' needs.
Express International Courier & Cargo India Operations is headquartered in Kerala and operates in over 220+ countries worldwide, including the USA, Europe, UAE, UK, and Africa. Unlike other premier courier companies that charge over INR 5000 for sending documents, Express International Courier & Cargo delivers the same documents for as low as INR 2500. They also provide parcel delivery services at reasonable rates for packages weighing over 21kg to various international destinations from Kerala. The company also offers pick-up services, making them a convenient and acclaimed courier partner.
As Kerala's premier international courier and cargo service company, Express International Courier & Cargo aims to provide streamlined processes and the best solutions while consistently striving for excellence in their line of business. Their founder states that their goal is to build the biggest gateway for the cheapest shipping abroad.
During the pandemic, the company delivered over 200,000 medicine shipments and 300,000 food couriers worldwide. They are committed to serving their clients and prioritising the delivery of their shipments quickly and efficiently. As international specialists, they offer expedited shipments to and from over 220 countries and territories, earning their clients' trust.