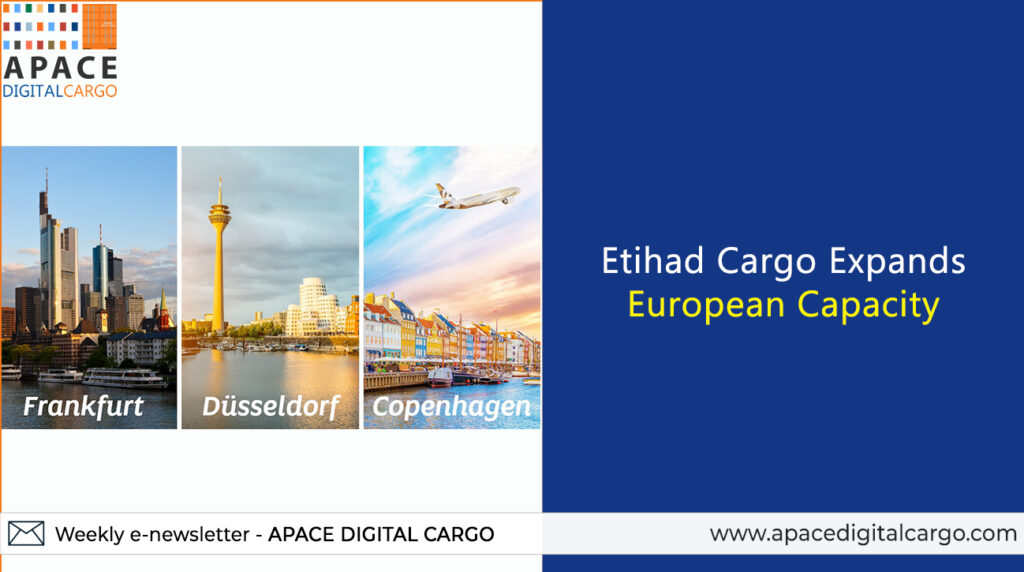 Etihad Cargo, the cargo and logistics arm of Etihad Aviation, will be offering increased capacity to the European market through two new gateways with the introduction of two new routes from its Abu Dhabi hub to Copenhagen in Denmark and Düsseldorf in Germany. Etihad Cargo would also be introducing additional services to Frankfurt.
Etihad Cargo is currently running seven passenger and four freighter flights per week to Frankfurt. Starting May 1, 2023, the airline will add four more flights, bringing the weekly total to 15. Then, from October 1, 2023, Etihad Cargo will introduce four weekly flights out of Denmark for cargo purposes. Additionally, the reinstatement of three weekly flights to Düsseldorf, combined with their wide-body passenger and freighter flights to Frankfurt and Munich, will provide extra cargo capacity from Germany. These flights will be carried out using the advanced Boeing 787 Dreamliner aircraft.
Martin Drew, Senior Vice President of Global Sales and Cargo, Etihad Airways said, "Etihad Cargo is pleased to introduce cargo capacity out of Copenhagen, a new addition to Etihad's ever-growing network, from October. Denmark is home to a number of major international pharmaceutical companies and the country has become an established biotech and pharma hub in Europe. Via Etihad Cargo's IATA CEIV Pharma-certified product, PharmaLife, the carrier will provide the reliable and robust transportation of Denmark's packaged medicaments to markets around the world." He added, "The relaunch of flights to Düsseldorf and additional flights to Frankfurt will further expand the carrier's operational footprint in Germany, reinforcing Etihad Cargo's commitment to the European market and giving customers greater flexibility and options when it comes to transporting their cargo."
The 11 new flights, in combination with the carrier's existing European services and increased frequencies that will be launched in 2023, will bring the total number of flights to European destinations to 700 per month. Etihad Cargo currently offers four dedicated freighter services from Abu Dhabi to Amsterdam and two weekly freighter flights to Frankfurt, which connect to Chicago's O'Hare International Airport in the US. Additionally, Etihad Cargo's customers benefit from cargo capacity across Etihad's extensive passenger network. The carrier also provides seamless connectivity to offline destinations in Europe via its road feeder service network.