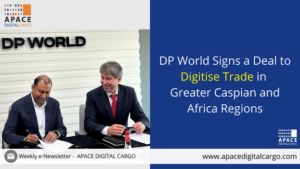 DP World signed a cooperation agreement with the Caspian Containers Company SA (CCCSA) in order to help digitise trade in parts of Africa and across the Greater Caspian Region.
The agreement envisages the UAE port major to use its innovative technology to enable booking and tracking of shipments at the click of a button. Through the implementation of DP World's SeaRates, a digital platform that allows identifying and booking cargo routes in seconds, cargo owners will be able to compare quotes from multiple providers and make informed decisions on the optimal route for their shipments.
The alliance aims to enhance connections between the growing markets of the Greater Caspian Region and Africa, with a specific emphasis on enticing project cargo shipping customers in countries such as Turkmenistan, Uzbekistan, Tajikistan, Kyrgyzstan, Afghanistan, Mozambique, Congo, Nigeria, South Africa, Morocco, Tunisia, Ghana, and Kenya.
Mike Bhaskaran, Group Chief Technology Officer, Digital Technology, DP World, said: "There is a great opportunity to enable further development of the Greater Caspian Region and Africa's trade routes to unlock more economic benefits. The digitising of the supply chain will help us do this, with innovative technology such as SeaRates enabling cargo owners to find the most efficient routes to transport their goods via an online platform."