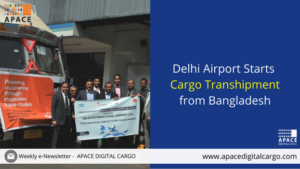 Delhi International Airport Limited (DIAL), a subsidiary of GMR Airports Infrastructure Limited (GIL), welcomed the first batch of transhipment cargo from Bangladesh on 3rd March, 2023.
The progress made has opened up a faster and more economical path for transporting export goods worldwide. The initial shipment departed from Dhaka on February 26 and reached Delhi Airport on Friday, with the next leg of the journey to Spain scheduled for March 5. The Indian Government granted approval to DIAL on February 7, permitting it to function as a cargo transhipment center linking Bangladesh with other global markets for export commodities.
The government's decision is anticipated to provide a significant boost to the national economy, with manufacturers benefiting from substantially reduced shipping costs. Additionally, it is expected to increase the volume of daily international cargo exports through Delhi Airport, encompassing a wide range of products such as ready-made garments (RMG), handlooms, footwear, leather items, jute products, and pharmaceuticals.
Bangladesh has gained recognition as a global manufacturing center for ready-made garments in recent years. The fresh transportation route is predicted to present new possibilities for the South Asian nation. As Bangladeshi manufacturers rely significantly on India for raw materials such as textiles, threads, jute, leather, and pharmaceutical components, any rise in exports is likely to result in a corresponding increase in demand for Indian-produced raw materials in Bangladesh.
Ready-made garments (RMG) produced in Bangladesh are highly sought-after in countries such as Germany, the United Kingdom, France, Spain, Italy, the Netherlands, Denmark, parts of Eurasia, and the USA. As Delhi Airport provides direct connectivity to the majority of European countries, this new transportation route is expected to enhance the Indian government's efforts to help countries in the Indian sub-continent achieve their maximum potential.
The transhipment cargo will travel from Dhaka to Delhi through the Benapole-Petrapol border between Bangladesh and India. Following all necessary security checks at the Petrapol border, the manufacturers will be able to monitor their shipment's progress throughout its journey, from its arrival at Delhi Airport to security clearances and final loading onto the aircraft.To facilitate seamless business operations, DIAL has developed a specialized truck docking facility and a dedicated X-ray area to expedite the transfer of cargo to its outbound destinations.
CEO of DIAL, Videh Kumar Jaipuriar, said, "With this initiative, the Delhi Airport is on its way to becoming the international cargo hub of the world, serving as a transhipment centre between East and West." He added, "Globally, most manufacturing happens in South and South-East Asian countries, which lack freight and cargo handling capacity. This is where Delhi Airport can help nations come together, help businesses and help the economies of neighbouring countries prosper," Jaipuriar said.