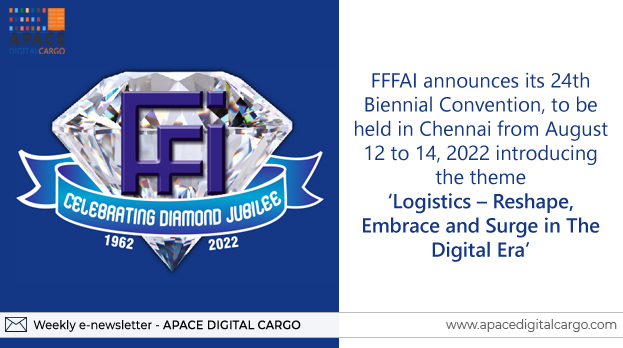 The Federation of Freight Forwarders Associations in India (FFFAI) has announced its 24th Biennial Convention of the Federation to be held from August 12 to 14, 2022 at ITC Grand Chola in Chennai with the theme 'Logistics – Reshape, Embrace and Surge in The Digital Era'. Which was announced during its 4th Executive Meeting of FFFAI held on March 23, 2022 in Dubai.
Elaborating on the 24th Biennial Convention, FFFAI Chairman Mr Shankar Shinde informed that the Convention would focus on innovative logistics embracing the digital era for surging ahead. 
"The 'New Normal' has been discussed a lot in every industry which has changed the dynamics of doing business, as the Trade and Industry which in recent years witnessed great changes in Logistics with different challenges and opportunities, with introduction of Digital Environment has compelled to adopt changes rather than by choice as of now," Mr Shinde said. 
According to him with opening up POST COVID, logistics sector is scaling up considerably and it is time to assess the situation to convert challenges into opportunity. FFFAI Convention is the ideal platform to get together and discuss enhancing knowledge through business sessions with expert speakers from various sectors and business networking partners. 
"A Customs Broker is the heart of supply chain and everything will evolve around the Customs Broker with the logistics support system to make the value chain successful. Hence, Customs Brokers play important role in facilitating and expediting the seamless movement of cargo shipment," Mr Shinde asserted.
Adding further on the theme of the Convention the FFFAI Chairman underscored that Technology will be playing an important role. The business models will change with adaptation of technology and digital marketing. "In the forthcoming FFFAI Convention we intend to focus on 'Logistics – Reshape, Embrace and Surge in The Digital Era' for sustainability of successful business investments of time and money. It will also result in reducing importance of working on site and shifting process of logistics to the offices," he said.
In his opinion the CBs and FFs in India will also need to grapple with the perception of their clients that they (CBs/FFs) remain Relationship Managers besides being Domain Experts. "Their expectations of us being in a position to solve every issue without compensation or acceptance of our ability will also need to be addressed by us in the coming period," he added. 
Considering the same, said Mr Shinde, the theme ''Logistics – Reshape, Embrace and Surge in The Digital Era' is indeed very apt as it is the genesis of our existence and growth.
Mr Shinde also shared that the business sessions based on the above theme will provide delegates with a broad perspective and insight to re-align and re-shape to the changing environment and the multiple changes that will come along with it. 
Mr A.V. Vijayakumar, Convener of the 24th Biennial Convention outlined the format and further details of the Convention. 
"We are witnessing rapid, significant and visible changes especially in the recent years. With India becoming a signatory to the Trade Facilitation Agreement there is an accelerated approach by the Indian Government – more so of the Ministry of Finance – to create a seamless, smooth and swift environment for global cross border trade," said Mr Vijayakumar. In his opinion, the pace of trade facilitation is so dominant that adopting to such changes is becoming a challenge. "Logistics industry is the core center for the success of the trade facilitations and a comprehensive rethink is required in our business environment and business model," he observed. 
In his opinion, in view of the fact that India is taking strong strides and is emerging as one of the fastest developing economies with huge expectations to be in the first few top slots in the years to come, there is a need match this growth in all support activities. 
"With all the uncertainties around us, the only certainty is change and our willingness to accept and adopt to such change so as to remain relevant in every time zone. It is in this challenging backdrop that we will be holding our 24th Biennial Convention after a pause of a year due to the pandemic," he pointed out. 
Apart from the Inauguration Session to be addressed by the FFFAI Chairman, Convention Chairman, other Office Bearers of FFFAI, and special Guests from the Government/Ministries/industry experts, there will be six Business Sessions on various topics aligned with the theme of the convention. Networking evening functions coupled with dinners and gala dinner on the concluding day would be the added attractions of this biennial event. 
"FFFAI intends to invite top Ministries and Minsters to be an integral part of the convention to share their thoughts, visions and focus for the future. The iconic event will have very senior officials, bureaucrats and industry leaders to address the gathering. It will be a unique opportunity and a healthy platform for the participants to interact, integrate and involve in meaningful engagements of knowledge sharing. It could also be a trigger off for business opportunities," shared the Convention Convenor.
According to Mr Dushyant Mulani, Chairman Elect FFFAI and Convenor, Business Sessions, Business sessions will be focusing on thought leadership with tangible content for improvement, enhancing knowledge and progress of business spectrum. Experts from different fields from private as well as government segments/ministries and having strong domain knowledge would be invited to speak at the Business Sessions.
"FFFAI Convention is an opportunity for members to participate and network on one common platform with more than 450 delegates and we would expect to close registration even before the Early Bird Discount date as there is huge participation expected from international logistics players too," Mr Shinde concluded with high optimism.