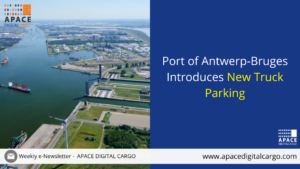 The Port of Antwerp-Bruges has introduced a new truck parking facility named Ketenis, which offers 280 free parking spaces and includes fast chargers for electric trucks.
The parking facility is located on the left bank of the Scheldt, adjacent to current and future container terminals, and is intended to reduce the inconvenience caused by parked trucks around the port. In addition, it may be used as a daytime waiting parking option for trucks that arrive too early for their terminal appointment.
Alongside the Goordijk parking facility on the right bank of the Scheldt, Port of Antwerp-Bruges is opening Ketenis to provide even more truck parking options. The port has invested approximately €10 million in this project, with €2 million coming from European support through the Connecting Europe Facility. A significant portion of the investment was allocated to the remediation of the site, reflecting the port's social responsibility to future generations.
To operate the Ketenis and Goordijk parking facilities, the port is in the process of licensing a licensee who will provide fast chargers for electric trucks. Ketenis will have at least 10 fast chargers (300 kW), while Goordijk will have at least five.
Annick De Ridder, Port Alderman of the City of Antwerp and chairman of the board of Port of Antwerp-Bruges, says: 'This new truck parking is excellently located near the current and future container terminals on the left bank of the Scheldt. Parking Ketenis will provide better comfort of and greater safety for truck drivers. Moreover, thanks to its electric loading capacity, this parking will become an essential link in electric truck transport between the port platforms of Antwerp and Zeebrugge. Our port is the economic engine of Flanders. The more sustainable that engine runs, the better!'