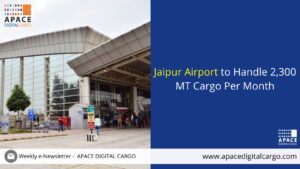 The Jaipur International Airport will soon start operating a domestic cargo unit, adjacent to the Terminal 1 building. The cargo unit spans an area of 550 sq/m and is capable of handling 2,300 metric tones of cargo monthly.
The airport is also planning to start an international cargo unit by the end of the year. "We will start domestic inbound and outbound cargo unit, adjacent to the terminal building of the airport. The new cargo terminal is equipped with state-of-the-art infrastructure and facilities. We plan to engage with various trade-related stakeholders and help them understand how the new facilities can enable safe and secure movement of cargo to regional and national aviation cargo hubs," said the official.
Officials said the airport administration has received all necessary permissions and approvals from state and union regulatory agencies to start the cargo operations. The tariff and other rate cards for the cargo operations are determined by the Airport Economic Regulatory Authority of India, said officials.