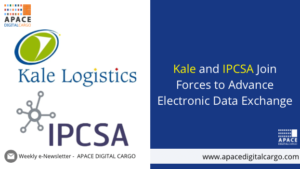 Kale Logistics Solutions (Kale) and International Port Community Systems Association (IPCSA) have released a joint whitepaper to drive uptake of the Maritime Single Window (MSW) concept, ahead of the International Maritime Organization's (IMO) January 2024 mandate for digital data exchange.
Kale's MSW is a platform that enables information and documentation to be transferred electronically between maritime and port stakeholders, in accordance with IMO standards. The whitepaper sets out usage guidelines for MSW and a framework for the complete life cycle of the solution to accelerate digital maturity in worldwide maritime operations.
"Some uncertainty remains about the need for and challenges regarding Maritime Single Window," said Suneet Gupta, Global Head – Cargo Community Systems, Kale Logistics Solutions. He added, "This whitepaper plays a major role in clearing up the ambiguities regarding technology adoption and how MSW can seamlessly facilitate trade for the global maritime ecosystem."
A digitised five-step process flow of the Maritime Single Window defined in the report starts with submission of the Notice of Arrival by the ship owner/agent, followed by notification of vessel and cargo information to the port by the shipping line. An import manifest file can then be created and integrated into the Customs system online, IMO Standard FAL forms and certificates can be uploaded, and vessel arrival clearance can be given to the ship owner.
In the final step, the ship owner can seek and receive departure clearance, digitally. The full system enables MSW stakeholders to monitor a vessel's status in real time, ensuring information only needs to be inputted once and simplifying documentary procedures between all actors involved in sea-side operations. Further benefits include enhanced crew and cargo safety, uninterrupted global supply chains, and data harmonisation, while also combatting illegal trade and malpractices associated with ship-shore interface.
"Maritime Single Window is going to be the future of maritime trade, and now the whole world is looking forward to the first of January 2024 when it will become a mandatory norm," said Nico De Cauwer, Lead of Standards & Technology of IPCSA. He added, "The whitepaper stresses the enormous benefits achieved by contactless and paperless operations, which began during the pandemic, and hence became an important point of discussion."
Amendments to the Facilitation (FAL) Convention by IMO's Facilitation Committee will see the single window for data exchange become mandatory in ports around the world from 1st January 2024, marking a significant step in the acceleration of digitalisation in shipping.
"Kale is a pioneer in delivering IT solutions and hopes to drive the enhancement of port efficiency, sustainability, and more," said Vineet Malhotra, Co-Founder and Director, Kale Logistics Solutions. He added, "With MSW becoming the major point of discussion in the world of maritime trade, stakeholders found a void in terms of guidance and this whitepaper addresses that void."