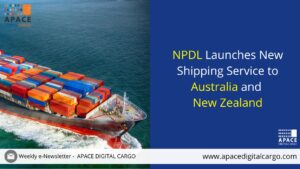 Neptune Pacific Direct Line (NPDL) has made a long-term commitment to improve its services by increasing its service frequency and restoring service reliability. To fulfill this commitment, NPDL has announced a comprehensive service upgrade, which will help to restore supply chains and address congestion and operational challenges in New Zealand and Fiji ports.
The new service, called Australia New Zealand Pacific (ANZPAC), will commence in late April 2023. It will offer fixed day fortnightly sailings with three 1700 TEU vessels operating directly from the East Coast of Australia to New Zealand, Fiji, Samoa, and Tonga. The three vessels, Capitaine Tasman, Capitaine Dampier, and Capitaine Tupaia, will provide enhanced trade opportunities between Australia and New Zealand, and serve as a platform for Pacific Island exports. Moreover, the service has a significant buffer time designed to improve supply chain reliability across the Pacific and between Australia and New Zealand.
Initially, the ANZPAC service rotation will start with Sydney /Melbourne /Auckland /Suva /Lautoka /Apia /Nukualofa /Tauranga. However, once port disruption in New Zealand decreases, Brisbane will be added as the first Australian port. The ANZPAC service will be beneficial for shippers and customers, as it offers consistent and reliable transport services. By providing direct sailings, it will reduce transit times and provide a more efficient and cost-effective solution for Pacific Island exporters.
The ANZPAC service upgrade is part of NPDL's efforts to improve its services and meet the needs of its customers. The company's long-standing commitment to service reliability and frequency has helped it become a leading carrier in the Pacific. With the new ANZPAC service, NPDL aims to further enhance its reputation as a reliable and customer-focused carrier.
These network changes build on NPDL's commitment to invest in providing more frequent, reliable shipping and supply chain services to the South Pacific.