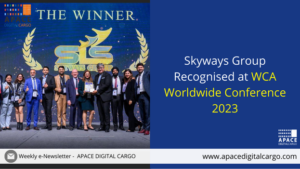 We are pleased to share that Skyways Group has received great honour and accolade at the most coveted WCA Worldwide Conference 2023.
They were declared as the Best Forwarding Partner for India Sub-continent 2022 at the prestigious conference held in Singapore. In addition, they were also nominated amongst the top 3 Best Partners world wide 2022.
The award is the result of their consistent efforts and commitment in providing best in class logistics solutions to their customers, partners, principals and carriers from across the globe. Over the years, WCA has been creating an incredible platform for all forwarders from across the world to network and build partnerships for the benefit of global supply chains.
The Award was received by the Group's Director, Mr. Rohit Sehgal along with some of their team members including Sona Handa Arora, Megha Tandon, Naresh Nagar, Rahul Tanwar, Sundar PG, Harjeet Singh, Shikhar Grover, Gautam Mehta, Megha Kukreti and Pallavi Arya, who were also present to witness this incredible moment. The award is a testimony to the hard work and dedication of every member of the Skyways family.