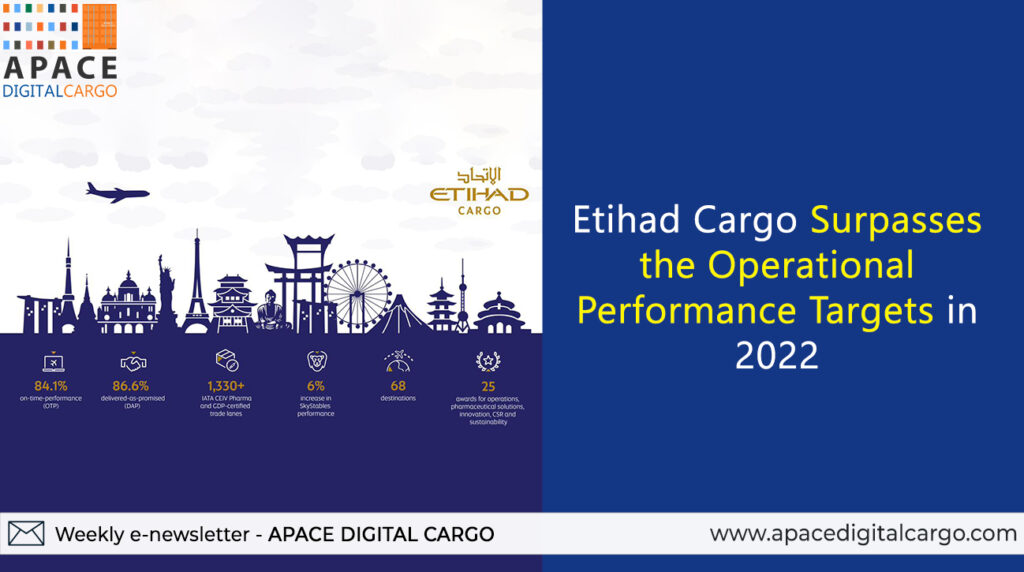 Etihad Cargo, the cargo and logistics arm of Etihad Aviation Group, exceeded its operational performance targets in 2022. It achieved 80.5 % on-time performance for freighter departures and 84.1 % OTP for freighter arrivals, ahead of its 80 % target, maintaining a delivered as promised rate of 86.6 % which is 2.6 % higher than previous year.
"Having achieved record revenue results in the first half of 2022, the focus for Etihad Cargo was building on this momentum to ensure the carrier continued to meet customers' capacity demands with agility. Exceeding OTP and DAP targets, which measure the carrier's ability to deliver cargo at the agreed time and the punctuality of its freighter fleet against schedule, demonstrates Etihad Cargo's strong commitment to reliability, building trust and being the air cargo partner of choice. Etihad Cargo's customers have benefited from increased belly capacity on wide-body passenger flights to key destinations, including Bangkok, Brussels, Dublin, Guangzhou, Johannesburg, Kuala Lumpur, London, Madrid, New York, Singapore and Vienna. The carrier also introduced additional freighter capacity, launching new services from Chennai and Shanghai. Through continuous review of its network, Etihad Cargo has responded to increased capacity demand with agility. The carrier will continue to work closely with its partners and customers so it can add capacity to meet evolving customer requirements and market conditions."said the Senior Vice President of Global Sales and Cargo, Etihad Aviation Group, Martin Drew.
Another core focus for Etihad Cargo during 2022 was sustainability, and the carrier launched several initiatives and programmes that will help its customers meet their sustainability targets and benefit the wider air cargo industry. For example, Etihad Cargo partnered with IATA to co-develop and trial a cargo-specific CO2 emission calculation tool, which will provide a valuable proof of concept for the cargo component of the IATA CO2 Connect carbon calculator. Etihad Cargo was also the first middle eastern carrier to join TIACA's BlueSky sustainability verification programme. To make the transportation of pharmaceuticals more sustainable, the carrier entered into an MOU with B Medical Systems to develop and launch the world's first airline-specific passive temperature-controlled container, which will significantly reduce carbon emissions through an innovative design in terms of packaging type and size while still mitigating the main risks of potential breaks in the airline pharma supply chain.