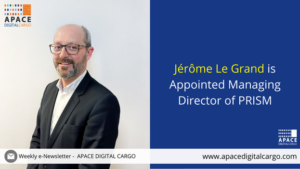 Jérôme Le Grand has been appointed as the Managing Director of PRISM, which is a 4PL subsidiary of Bolloré Transport & Logistics. He was previously the Vice-President of Aerospace & Defense at Bolloré Logistics and has been given the responsibility of expanding the company and its network of operational hubs.
With 25 years of experience in the aerospace industry, Jérôme Le Grand has played a crucial role in developing specialized expertise in aeronautics, space, and defense logistics at Bolloré Logistics in the United States, Europe, and globally. As the newly appointed Managing Director of PRISM, which has a presence on all continents, Le Grand will leverage his extensive experience to expand the company's business and digital technology expertise in flow management and supply chain optimization consulting. Currently, PRISM employs nearly 100 employees across its operational hubs in America, Europe, and Asia, as well as its centers of excellence in France and Switzerland.
Jérôme Le Grand said, "I am delighted to have been assigned these new functions. We have high ambitions and I have great teams by my side who will help us to rapidly identify new objectives to make PRISM a key player in 4PL logistics and Supply Chain consulting solutions. Our mission is clear: to manage, simplify and optimise our customers' transport flows."
As the Managing Director, Jérôme Le Grand will be responsible for meeting the specific needs of shippers involved in the transformation of their supply chain. His mission will thus be to boost PRISM's growth, which has recently been marked by a number of strategic acquisitions in the aeronautical sector. He will also be in charge of expanding the operational hubs of Toulouse, Porto, Mexico City and Kuala Lumpur and of creating new sites.