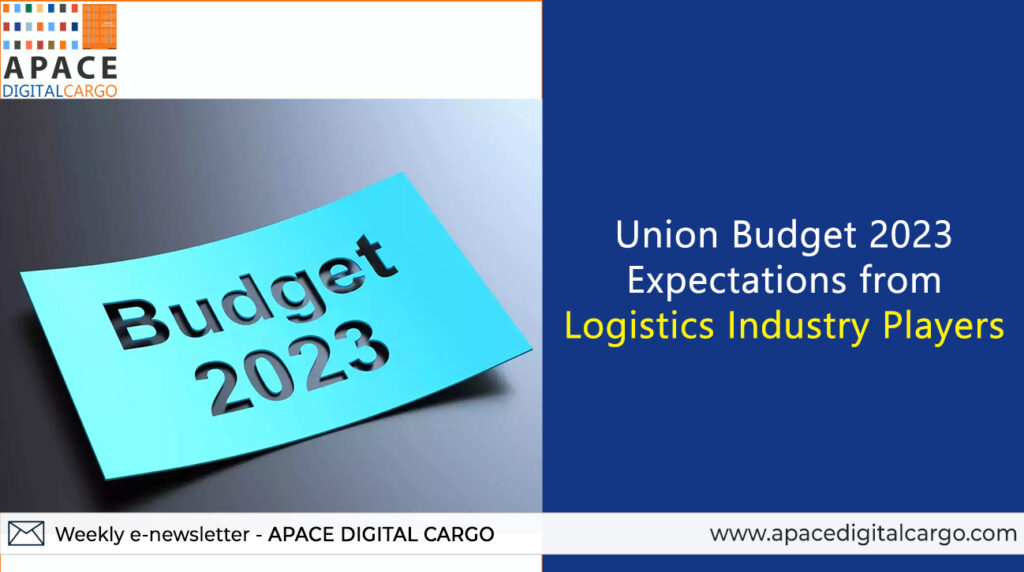 Union Budget 2023 focused on raising capital expenditure by the government, fiscal consolidation, and attractive incentives and rebates in the new income tax regime. In context with that, we asked the below mentioned industry players on their insights regarding their expectations for the cargo and logistics industry prior to the release of the Budget. Here are the excerpts:
Sam Katgara, Partner, Jeena & Company
"We expect the upcoming budget to focus on four aspects. Firstly, an announcement of a tax incentive on capital expenditure for the expansion of new-age technologies like artificial intelligence (AI), machine learning (ML), and internet of things (IoT) as innovation and technology hold a paramount importance in the National Logistics Policy (NLP). Having said that, we are most likely going to witness the implementations of the NLP in this budget wherein cost management in the logistics sector and easing of several bottlenecks will be the focus areas. I am also bullish about the consideration of ASSOCHAM's suggestion of reducing interest rate for late payment of GST from 18 to 12 percent in this budget. Secondly, tax related relief or modifications in income tax slabs for salaried people. Next, employment focus through more allocations towards the rural employment scheme as well as skill training and upgradation which will help make our Indian job market more diversified and inclusionary in nature creating maximum job opportunities for our youth and lastly, but extremely important is to enhance the PLI exposure to a few more identified sectors to boost and diversify our exports."
Yogesh Dhingra, Founder, Managing Director, CEO, Smartr Logistics
"Over the past decade, the logistics industry has emerged as a major pillar of the Indian economy. Last year, the government laid down a strategic framework with the introduction of the National Logistics Policy which aims to reduce India's current logistics cost from 14% of GDP to single digits through infrastructure and digitization focus initiatives. Allocating capital and commissioning projects to promote and fast-track infrastructure development should be a key priority for the Union Budget 2023. Timely execution of the Dedicated Freight Corridors (DFC's) will help reduce emissions as well as costs in freight movement through enhanced use of rail and reduced dependency on highways.
Additionally, we would hope to see further investments and incentives to promote the development of cargo terminals which will drastically increase efficiency in freight handling at airports and speed for last-mile delivery. Initiatives such as Multi-Modal Logistics Parks (MMLPs) to develop logistics parks will certainly benefit the sector and should be prioritized through increased allocation for feasibility studies and identification and acquisition of land parcels to accelerate the public-private partnership (PPP) tendering and development processes.
Quality warehousing is a critical need for the industry. For the sector to truly grow and transform into an organised and globally competitive logistical hub, we are hoping to see the introduction of measures and policies that will promote and ease physical infrastructure development such as clearance of land, zoning, occupancy, and ease of processes like property records registration and verification to make construction and leasing activities more efficient for end users.
Furthermore, subsidies or lower interest loans in the development of warehouses, warehouse automation equipment, and other supporting infrastructure for the logistics industry like the NABARD scheme for agriculture warehousing would play a significant role in enhancing capital investment, handling capacity, and efficiency in this critical industry. The budget overall is expected to continue to highlight and increase the allocation to the logistics sector which will increase efficiency and reduce overall logistics cost thereby enhancing India's trade competitiveness. These will ultimately contribute to the government's vision to promote manufacturing within India both for domestic consumers, and international export while lowering costs for consumers and increasing trade volume."
Vineet Malhotra, Co-Founder and Director, Kale Logistics Solutions
"The Logistics sector was identified as one of the seven engines of growth of Indian economy in the Union Budget 2022. Under that, the National Logistics Policy was announced, which the industry believes will be a game changer if implemented as planned. Added to this, the already existing plans such as Sagarmala, Bharatmala, PM Gati Shakti Plan, and other initiatives are expected to complement the ultimate goal of achieving Logistics efficiency and reducing Logistics cost. Under Bharatmala Pariyojana, the Ministry of Road Transport and Highways is keen on reducing 191 congestion points identified and is keen on de-congesting these points for the seamless movement of Cargo.
Also, the Ministry is now embarking on a plan to build 35 MMLPs across the country. Currently, the market size of the Indian expenditure in Logistics constitutes 14% of the total GDP, which is much higher than the average expenditure of 8% of GDP by nations such as USA and China. While the mentioned initiatives are powerful and they recognise the importance of the Logistics sector in realising India's growth goals and ambitions on the world stage, there should be an effort where the government designs a plan to simplify the Budget allocation process for all concerned divisions. Grants, penalties, loans, direct service provision, and any other techniques related to this policy should be monitored and managed by a regulatory body, which the government should fund in the forthcoming Budget.
To accelerate India's integration into the global supply chain, the capital allocation for the identified priorities and incentives for digital and technology adoption would be welcome. The upcoming Union Budget should not only create a roadmap for sustainable growth in the logistics sector but also incentivise the industry to adopt sustainable practices. The sector is keenly looking at adopting greener practices. Offering tax benefits and incentives to industry for adopting green practices and paperless operations. The importance given to technology adoption through the Unified Logistics Interface Platform is welcome, but how far the plan is accepted and how soon it materializes matters on the budget allocation."
Parvinder Singh, Managing Director, Hans Infomatic
"Now is the time for digitisation and being a technology solution provider to logistics and supply chain industry, we expect from the government to work towards achieving it. After the announcement of New National Logistics Policy, the expectations are more from the government to uplift this sector. The sector really needs the right set of incentives and support measures to accelerate its recovery, as without proper assistance the sector which keeps trade and commerce moving could get choked. We still find many small and medium organisations from this sector, hesitating to invest on technology front. It has been observed that these organisations need to be coaxed to adopt technology. Indian Customs should digitalise the processes for faster clearance of cargo and move nearer towards paperless and ease of doing business.
It should also empower the trade with all the statutory compliances as mandatory for online processing. We have expectations from the government to allocate more towards technological integration and implementation of initiatives that really drive the digitisation across the country. The Indian customs has done a lot on digitisation, still many areas are left which can further be digitalised and at the same time can be mandated so that the industry users have to adopt those digitised processes. Moreover, the government can also financially support and motivate these companies towards digitalisation, which will ultimately boost the logistics industry. So, more measures are expected to make this industry move towards "completely paperless", which in turn will lead to more efficiency and cost effectiveness to compete globally."
Vipin Vohra, Chairman, Continental Carriers Pvt. Ltd.
"With the launch of National Logistics Policy in 2022 under PM Gati Shakti National Master Plan, Logistics industry has high expectations from Budget 2023, which aims at reduction of Logistics cost from 14% of GDP to 8% -10% of the GDP. It is expected that the Budget 2023 will continue with its thrust on infrastructure development both at Airport and off-Airport locations in the form of Air Freight Stations in accordance with AFS Policy inviting healthy competition among the Cargo handling players making Air Cargo affordable so as to improve the global competitiveness of the Indian industry in the world market.
Budget-2023 should propose Warehousing and Logistics policy at centre level including PLI and other incentive(s)/subsidies with an option for the states to further liberalise it considering the local scenario. Our job is to make sure that from raw material to finished goods sitting on the retail shelf, we provide the critical services and information necessary to give our clients a competitive advantage in the management of their supply chains. We pride ourselves in being able to offer our clients competitive pricing.
Celware is committed to providing customers value-added services. We strive to develop a long-term business relationship with our customer, which is founded on our ability to help identify and recommend the best solution for each customer's business environment. We strive for continuous improvement in our relationships with customers and our ability to provide quality products and solutions to our customers requirements without losing focus of our 'right-on-time' delivery system.
Supply chain provides customized logistics solutions in the areas of supply chain management, warehousing, distribution, value added services and lead logistics provider services. As the cost of the logistics chain becomes a key element in customer budgets, CELware supply chain strives to improve the effectiveness and efficiency of the extended supply chain by providing excellence across the total process inbound and outbound, inter plant movement, warehousing, linefeed and value added services amongst other solutions. CELware supply chain has expertise in various industry verticals. CELware has access to pan india basis."