Not any direct announcements but presentations on infrastructure and digitalisation create a positive and hopeful  environment for the growth of the logistics and cargo industry, reports Apace Digital Cargo.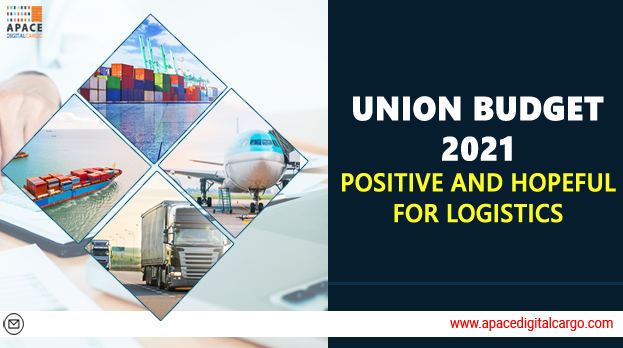 With a focus on reviving the economy, the government in the Union Budget 2021, presented by Finance Minister Nirmala Sitharaman, has announced a few key proposals to push for Infra Development and Digitalisation , which are considered as a welcome move for the cargo and logistics sectors of India. Cyrus Katgara, Parter, Jeena & Company, stated, "Our government's major responsibility was to spend enough on infrastructure to revive the economy and boost the healthcare sector for people to live a normal life again, both of which have been taken care of. I must say that it is a very well balanced budget." 
To begin with, creating an outlay budget for national highway projects to the tune of  Rs 1.18 lakh crore of 8,500 km by March 2022 and an additional 11,000 km of the national highway corridor, ensures smooth logistics services for the industry and a reduction in the logistics costs too. The new economic corridor to boost road infrastructure and the decision to award 13,000 km of roads under the Bharatmala project are welcome moves by the centre. This will not only create better connectivity but will add to job opportunities at the grassroot levels. Better connectivity will translate into better service to customers looking for quick and seamless service from logistics support providers. 
Placing a priority on the commissioning of the eastern and western dedicated freight corridors (DFCs) has been one of the key highlights (for the logistics sector) of budget 2021 presented by the finance minister. This will help in bringing down the logistics cost as well as ensure smooth connectivity between different points of the country and ensure easy and faster freight movement. Manav Sachdeva, managing director, Sky Logitrans Pvt Ltd, said, "The proposals to set up freight corridors across the country, as well as the proposal for a future-ready rail system, along with the development of national highways, will bridge the gaps that currently exist, bringing in better connectivity between production and consumption markets." 
Furthermore, the focus on digitalisation will help smoothen the customer interface for logistics companies like us. Along with this, the announcement of the massive investment of Rs 2000 crore on seven port projects under PPP mode will boost the logistics sector and enable overall economic growth. And of course the investment plans for the healthcare sector bring huge responsibilities and opportunities for the cargo fraternity. 
Though the announcements are not directly for the logistics sector, the moves are linked directly to the growth of the sector in many ways.