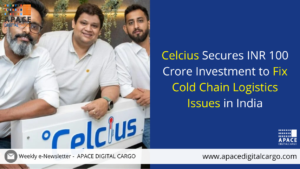 Startup Celcius Logistics has concluded its Series A funding round, accumulating a total of INR 100 crore, with IvyCap Ventures serving as the lead investor. The company previously secured INR 35 crore from current investors, including Mumbai Angels, Supply Chain Labs, and Endurance Capital. The funding will be utilized to develop technological solutions for the fragmented cold supply chain and minimize perishable goods wastage, contributing to a sustainable future.
"From our humble beginnings with just five employees during the Covid pandemic, we've become a leading player in the cold supply chain industry," said Swarup Bose, Founder and CEO, Celcius. "Having raised more funds, we aim to further expand our operations and build a seamless, unbroken cold supply chain, ensuring food security for all."
In the last 30 months, Celcius has experienced substantial progress, expanding its fleet network to more than 4,500 refrigerated vehicles, 107 cold storage facilities, seven distribution centers, and over 100 hyperlocal riders, along with a staff of 125 employees. The company operates in over 350 cities nationwide.
"We are confident that Celcius will emerge as the leading brand in this space," said Vikram Gupta, Founder and Managing Partner of IvyCap Ventures Pvt Ltd.
Recent reports on India's cold-chain infrastructure highlight inefficiencies in the food and pharmaceutical sectors. The disorganized and ineffective cold chain system results in annual food losses of approximately $14 billion and vaccine wastage of 29%, caused by damage and temperature fluctuations during transport.