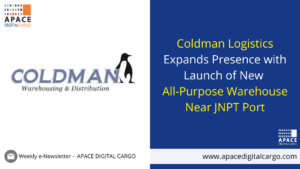 Coldman Logistics, one of India's leading logistics companies, has announced the opening of a new all-purpose warehouse with a capacity of 9,000 pallets near JNPT Port. With this latest addition, Coldman Logistics now has a presence in 14 cities across the country with over 100,000 pallets available for storage.
The new facility will enable Coldman Logistics to streamline their operations and store more products. The company's commitment to providing exceptional service to customers has been the driving force behind this expansion. The new warehouse has been designed with environmental sustainability in mind, with energy-efficient lighting, recycling programs, and an efficient use of resources implemented throughout operations. This aligns with Coldman Logistics' dedication to sustainability and their efforts to reduce their environmental impact.
Customers can continue to expect the same high-quality products and services that have become synonymous with the Coldman Logistics brand, but with improved efficiency and speed. The company is grateful for their customers' continued trust and looks forward to serving them from their new facility.