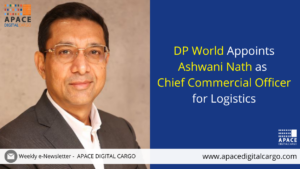 DP World, one of world's top port operators, has appointed Ashwani Nath as the CCO for all logistics businesses in the Indian Subcontinent Region. Ashwani will be leading the commercial organisation and prioritise the growth initiatives for all logistics businesses in the subcontinent. This appointment aligns with DP World's vision to drive exponential business growth and serve a larger array of BCOs (Beneficial Cargo Owners).
Rizwan Soomar, CEO & MD India Subcontinent & Sub-Saharan Africa, DP World, said, "Ashwani is a versatile leader with an established record of optimising operational efficiency. His leadership skills and vast experience will help us in achieving our vision to drive exponential business growth by offering customers end-to-end logistics solutions. As we help our customers navigate the complexities of global trade, we are confident that Ashwani will develop relevant solutions to make trade flow. We wish him the very best at DP World."
Ashwani Nath, Chief Commercial Officer – Logistics, Subcontinent, DP World, said, "It is an honour to join the established and talented team at DP World Subcontinent. I am eager to work with the team in delivering the best the organisation has to offer to all our existing and potential customers. I would like to thank the organisation for this opportunity and look forward to unlocking value for our customers and stakeholders."
With over 35 years of distinguished career experience, Ashwani has held various senior positions in prominent companies across India, Sri Lanka, Italy, Netherlands, and France. He has successfully led business development and solutions, resulting in optimization and efficiency improvement. He has established market leadership in several businesses he managed and created innovative solutions for building stronger partnerships with key C-suite clients. Ashwani's exceptional project management skills have enabled him to set up new businesses and turn around existing ones.