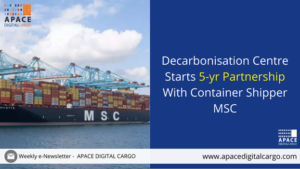 The Global Centre for Maritime Decarbonisation (GCMD) and MSC Mediterranean Shipping Company (MSC) on Thursday said they have signed a five-year agreement to work on decarbonising the shipping industry.
According to a statement released by the centre, MSC, which is the top company in container shipping, has pledged to donate funds towards the pilots and trials of lower-emission fuels conducted by GCMD. The shipping company has set a goal of achieving net zero by 2050. Furthermore, MSC has committed to providing access to its operational equipment, vessels, and other assets to aid GCMD in their future trials. Additionally, the company will share vessel operating data and evaluation reports, which will be beneficial in furthering GCMD's research.
"Despite current economic uncertainties, decarbonising shipping will need liners – who are closest to customers willing to pay a green premium – to make hard commitments for the industry to progress towards the International Maritime Organisation's 2030 and 2050 goals," Lynn Loo, GCMD's chief executive officer said.
The GCMD, a non-profit organization headquartered in Singapore, is committed to aiding the shipping industry in reducing greenhouse gas emissions. They aim to achieve this goal by establishing standards for future fuels and conducting trials for low-carbon solutions. The organization is focused on shaping the industry's trajectory towards a more sustainable future.