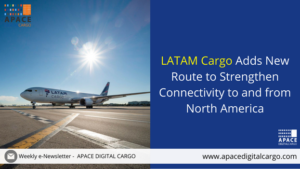 The connectivity between the United States and South America will be strengthened by LATAM Cargo through the inauguration of a new cargo route. This move will reduce transportation time and provide greater capacity for customers.
The new route will commence with two weekly frequencies, which will include Quito (Ecuador) – Los Angeles (United States) – Houston (United States) – Manaus (Brazil) – Viracopos, Sao Paulo (Brazil). The number of flights per week is expected to increase to four in the second semester when new cargo planes arrive. The inauguration of this route is a result of LATAM Cargo's constant review of its cargo itinerary to find new opportunities that benefit its customers. This route will favor the transportation of flowers from Ecuador, diversifying the export destinations of this product, with Los Angeles (LAX) added as a new delivery point, in addition to Miami and Amsterdam.
LATAM Cargo has also added Houston to its network, which will allow customers to reduce transportation times from the west coast and southern region of the United States to South America. LATAM Cargo has strengthened its interline agreements to take advantage of the connectivity that Los Angeles Airport has with key markets in Asia. This new route connecting the United States with South America is a reflection of LATAM Cargo's commitment to adapting to the needs of its customers by offering customized solutions.