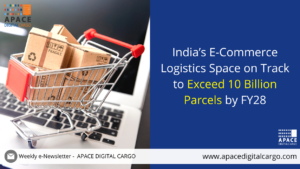 The Indian e-logistics market is experiencing significant growth in FY23, as reported by Redseer Strategy Consultants. In FY23, the total number of shipments for e-commerce logistics, excluding hyperlocal shipments, surpassed one billion. Third-party players and in-house logistics each accounted for roughly half of this market share. Despite the intensifying competition from smaller incumbents and challenged yields, the market is expected to grow at a minimum CAGR of over 20%, and to exceed 10 billion parcels by FY28, on the back of steady e-commerce growth.
D2C has emerged as a high-growth segment within e-commerce, with D2C brands across channels expected to grow overall GMV at 35% over the next few years. Brand.com will account for a significant portion of this growth, with a total of $33 billion of GMV expected to be generated from D2C brands across all channels by CY27. Logistics players that offer customized solutions for D2C brands are well-positioned to capture market share in this high-growth segment, with a stronger yield profile going forward.
Despite the intensifying competition, Delhivery remains the market leader in FY23 within e-commerce 3PLs parcels, as per Redseer data. Its wide range of offerings for D2C brands and fast-growing non-e-commerce business also makes it more resilient to recent macro trends in the e-commerce space, leading to a stronger yield profile going forward.
"Despite funding headwinds in eCommerce/Internet sectors, there are multiple pockets of high growth and high yield opportunities available for eLogistics players, be in D2C or large goods or non-e commerce segments like C2C , PTL/FTL and wider SCM services. Players who build robust capabilities and offerings to serve this demand effectively will fundamentally be more resilient in these challenging times and will be better positioned for long term market share and yield leadership," Mrigank Gutgutia, Partner, Redseer Strategy Consultants, said in a statement.