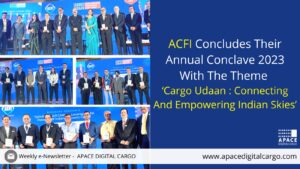 The Air Cargo Forum India (ACFI) successfully held its Annual Conclave on 3rd May 2023 at Le Meridien Hotel, New Delhi. The success of the event was the outcome of the hard work and collective efforts put in by the ACFI Governing Board and Event Management Task Pillar members of the forum, along with the support from Yashpal Sharma, ACFI President, and Satish Lakkaraju, Chairman ACFI Event Management Task Pillar and Global Head of Air Freight, WIZ Freight.
The ACFI 2023 event was graced by esteemed government officials as Guests of Honour, including Jivisha Joshi, Deputy Secretary of DPIIT, Divya Satija, senior leader of DPIIT, and Piyush Srivastava, Senior Economic Advisor from the Ministry of Civil Aviation. The event was graced by the presence of past presidents of the forum, members of the governing board, as well as stakeholders in the air cargo logistics and supply chain trade, such as airlines, airport operators, cargo terminal operators, freight forwarders, sales agents, other trade associations, and express industry professionals.
The theme of ACFI Annual Conclave 2023 was "Cargo Udaan- Connecting and Empowering Indian Skies," which focused on leveraging innovative technologies, integrating processes, adopting global best practices, and preparing for the expected increase in demand for air cargo in the post-COVID world. The event aimed to provide a platform for discussions and exchange of ideas on the future of air cargo logistics and supply chain trade in India, with a focus on sustainable growth and development.
The presence of esteemed government officials and industry stakeholders at ACFI 2023 provided an opportunity to showcase the progress made in the air cargo logistics and supply chain trade in India. The event also served as a platform for networking and collaboration to explore new opportunities for growth and development in the post-COVID world. The focus on innovative technologies and global best practices highlighted the need for continuous learning and adaptation to remain competitive in the dynamic air cargo logistics and supply chain trade.
The conclave covered three business sessions that highlighted the various possibilities, opportunities, challenges and action items for the Indian skies to reach 10 million tons by 2030-31. The sessions emphasized on key topics – "AIR CARGO – The Business Galvanizer," "INTERNATIONAL AIR CARGO – Opportunities and Challenges," and "DOMESTIC AIR CARGO – Leveraging the Potential of Indian Domestic Cargo."
These sessions were moderated by senior leaders like Satish Lakkaraju, Chairman – Event management Task Pillar and Global Head of Air Freight, WIZ Freight, Sanjiv Edward, Vice President ACFI & CEO – Cargo and Logistics, GMR Group along with Keku Bomi Gazder, ACFI Governing Board Member, Managing Director & Chief Executive Officer, Aviapro Logistic Services Pvt. Ltd.
The ACFI Annual Conclave 2023 also featured a strong line-up of eminent speakers, including Glyn Hughes, Director General of TIACA, Dr. Sudhanshu, Secretary (APEDA), Pradeep Panicker, President & Chief Executive Officer, GMR Hyderabad International Airport Limited, Sadhika Kumar, Chief Operating Officer, Lynkit Solutions Private Limited, Kunal Bhatt, Consultant Cargo, Commercial, TATA Air India, Vipul Bhalla, Chief Business Officer, Pradhaan Air Express, Mark Sutch, Chief Commercial Officer – Cargo (International), IndiGo (InterGlobe Aviation Limited), Ramesh Mamidala, Head Cargo Commercial, Air India Limited, Arun Chandra, Assistant Vice President – Aviation Business, Bangalore International Airport Limited, Ravi Prakash Mathur, Vice President and Global Head of Logistics and Supply Chain Excellence, Dr. Reddy's Laboratories Limited, Ajith Pai, Chief Operating Officer, Delhivery Pvt. Ltd, Kamal Hingorani, Chief Officer – Cargo, SpiceJet Ltd,   Vasuki Prasad, Sales Director Asia Pacific- Commercial Aviation, EMBRAER Asia Pacific Pte. Ltd., Gaurav Ghuwalewala, Executive Committee Member, Domestic Air Cargo Agents Association (DACAAI)
During the conclave Piyush Srivastava, Senior Economic Advisor (Ministry of Civil Aviation) stated, ''India is poised to take its position as 3rd largest aviation market, especially in the cargo sphere. We are just coming out of the storm of Covid, when we were hit by the ATF prices; we are trying to bring down the VAT. So far we have succeeded in 17 states and the journey is on to successfully cover other states. MoCA is bullish on creation of Transshipment Hubs which will depend on Global economic scenario and how the aviation sector works. But it's an exogenous factor. There is need for many such hubs, including international ones, owing to India's size and dimensions. Krishi Udaan has a bearing on Cargo for perishable commodities, especially in the Northeast but now we have expanded this to 58 other airports. Freighters can deeply benefit from this. I would urge all stakeholders of Air Cargo to take benefits from Krishi Udaan scheme. Lastly I would urge all pillars of ACFI to test their objectives on the teststones of doability and desirability, and then prioritize your short term, medium and long term goals to succeed in times to come. I wish the association good wishes for their future efforts.''
"ACFI has worked on various aspects to stimulate demand for air cargo and positioned various points that would be key for its growth. ACFI also hopes to continue its efforts to accelerate the pace of change and position India's logistics landscape as a global leader in the air cargo industry," said Yashpal Sharma, President ACFI and MD Skyways Group.
He also emphasized that the Air Cargo has the power to galvanize businesses across globe and prompted the shippers to put Air Cargo at the fore front of their transportation needs.
''The conclave brought together some of the best minds in the Indian air cargo industry and addressed the most critical challenges and opportunities in the market. ACFI as a forum aims to work on the strengths of the air freight industry, managing the nuances of international air cargo and leveraging the potential of domestic air cargo,'' commented Satish Lakkaraju, Chairman, ACFI Event Management Task Pillar and Global Head of Air Freight, WIZ Freight.
The conference highlighted the need for India to build and improve its current infrastructure, connect Indian airports to shippers through modern highways and local connectivity, integrate different modes of transport, adopt innovative technologies, simplify regulations and invest in skill development.
ACFI Annual Conclave 2023 was a resounding success and provided a platform for various stakeholders to come together, share their experiences, and collaborate to drive the growth of the Indian air cargo industry. ACFI Annual Conclave 2023 was an essential step towards connecting and empowering Indian skies to become a significant player in the global air cargo industry. The event also provided a platform for stakeholders to network, collaborate and explore new business opportunities.