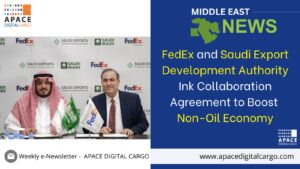 FedEx Express, the global express logistics and transport major signed a collaboration agreement with the Saudi Export Development Authority to provide logistics solutions to the authority's customers.
The authority was represented by the "Made in Saudi" programme, one of the National Industrial Development and Logistics (NIDLP) programmes aimed at enhancing the status of Saudi exports and promoting the kingdom's products to local, regional, and international consumers.
The agreement aligns with Saudi Arabia's strategy to grow its non-oil economy sectors through international trade, as part of the kingdom's Vision 2030 objectives of economic diversification.
Moreover, the partnership will provide competitive cross-border logistics services for SMEs and assist Saudi businesses in quickly entering international markets.
"FedEx is committed to helping Saudi Arabia transform its economy through its Vision 2030. Our strategic collaboration with Made in Saudi will provide the country's national goods and services greater access to efficient logistics solutions and an enhanced service experience," FedEx Express' vice president – Middle East and Africa operations, Taarek Hinedi said, noting that the company's extended global network, portfolio of customised solutions, value-added services, and in-depth industry expertise will help manufacturers and exporters expand their business to international markets and connect with a wider customer base.
"Our goal is to help them grow and transform into powerhouses that drive the growth of the Saudi economy," Hinedi added.
On his part, Saudi Export Development Authority CEO, Eng. Abdulrahman Althukair, emphasised the authority's keenness to strengthen effective strategic partnerships with the public and private sectors, to support its objectives of enabling exporters to expand and reach new global markets, and contribute to the kingdom's Vision 2030 goal of increasing the country's non-oil exports to 50% of non-oil GDP.
FedEx has been facilitating trade in Saudi Arabia since 1994 by providing its international solutions through local service providers. In 2021, the company announced its transition to a direct presence in Saudi Arabia, reinforcing its commitment to meeting the country's growing international shipping demands. Leveraging its extensive Middle East Road Network, FedEx has been connecting Saudi Arabia directly to the UAE, Bahrain, Kuwait, Oman, Qatar, and Jordan.