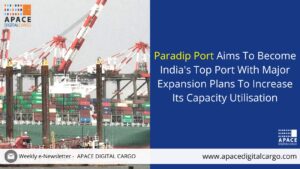 Paradip Port Trust is aiming to handle 150 million tonnes of cargo this fiscal year and increase its capacity to 500 million tonnes by 2047, according to its chairman P L Haranadh. The port is currently second among India's 12 major ports, handling 135.36 million tonnes of cargo in 2022-23, just 2.5 million tonnes less than Kandla port.
The port's strategy to increase capacity includes a tariff freeze, emphasis on coastal shipping, land allocation for port-led industrialisation, and expanding the cargo basket. The port plans to become 100% mechanised by 2030, with the full automation of existing semi-mechanised berths. Paradip Port is focusing on coastal shipping to reduce logistic costs, and plans to increase its coastal shipping capacity to 100 million tonnes by 2030.
The port has already lined up a capital expenditure (capex) of Rs 10,000 crore to increase its capacity to 400 million tonnes by 2030. Western Dock, a key project, will draw an investment of Rs 3,000 crore, which will add 25 million tonnes in capacity, while the rest of capex till 2030 will be made in other eight developmental projects, the chairman said.
"As part of Vision 2047, our target is to achieve a 500 million tonne capacity. Capex for 2030 from all sources will be approximately Rs 10,000 crore, and it will help raise our rated capacity to 400 million tonne from 279 million tonne now," Haranadh said. Despite global headwinds, Paradip Port remains confident to implement its expansion plans.
As part of its port-led industrialisation initiatives, the authorities have allocated 769 acres of land to various industries, which will result in over Rs 8,700 crore of investment, he said. "This will help generate an additional 50 million tonne of cargo traffic to the port," Haranadh said. The Paradip Port authorities have also planned to diversify its cargo basket.
"We are trying to diversify our cargo basket as so far Paradip Port is concentrating mainly on three traditional cargo items- crude, iron and coal. We have carried out a trial for moving gypsum to a western port," he said.
With an operating ratio of 38 per cent, Paradip Port is among the "world's lowest-cost port operators and will remain so", the official claimed. The operating ratio is a financial metric used in the transportation industry to measure a company's efficiency. When the ratio is lower, it signifies that efficiency is higher. "Last year, we decided to freeze the tariff for the next three years," Haranadh said.
The port plans to set up an LNG/CNG refilling centre on a PPP model to promote eco-friendly transportation. It also plans to develop Paradip into a hydrogen hub, with an exclusive facility for handling green hydrogen and green ammonia on a PPP model. With the DPR almost ready, the project is expected to be awarded in the next financial year, Haranadh stated.
According to him, the major ports of the country will continue to flourish, and the share of these facilities in the total traffic has increased by one per cent in the last fiscal year. The major ports handle 55 per cent of the total traffic, while 200 non-major ports manage 45 per cent of the country's total export-import traffic. In the last fiscal year, all major ports together handled approximately 795 million tonne of export-import traffic, registering a 10 per cent growth.