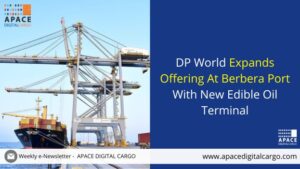 DP World has started developing a new edible oil terminal at the Port of Berbera in Somaliland to bring down supply chain costs and generate crucial local employment opportunities.
The facility has already secured a long-term lease agreement. The terminal will be the latest addition to the expanding trade ecosystem in Berbera, following the recent inauguration of the Berbera Economic Zone (BEZ), situated 15 km away from the port along the Berbera to Wajaale road (Berbera Corridor) that links to Addis Ababa in Ethiopia.
DP World's objective is to turn Berbera into a comprehensive maritime, logistics, and industrial trade center to serve the Horn of Africa, which has a population of over 140 million people. The terminal will initially have an 18,000-ton storage capacity that will be expanded as demand increases. Berbera Port will now be capable of handling bulk imports of edible oil for the first time, with the ability to service vessels with a draught of up to 16 metres. The importation of oil in bulk and its local packaging will make edible oil more affordable for residents in the region and create job opportunities locally.
The first phase of the terminal is entirely leased out on a long-term basis to Mzahim Investment LLC, a subsidiary of Essa Al Ghurair Investments (EGI) from the United Arab Emirates. Mzahim Investment is also planning to set up a local packaging plant in Berbera to provide existing customers in Somaliland and the wider Horn of Africa, which could potentially offer employment to up to 100 people.
Suhail Albanna, CEO and Managing Director, DP World Middle East and Africa said, "Our development of the edible oil terminal is a game changer for the region and is another example of how we are reducing the cost to trade by finding solutions that meet the needs of our customers, while having a positive impact on local communities in terms of job creation and easier access to goods. As part of the Berbera port and economic zone ecosystem, this facility is the type of integrated port infrastructure that attracts international investors such as EGI looking to get closer to their customers."
Essa Abdulla Al Ghurair, Chairman, Essa Al Ghurair Investments said, "As a UAE-based family business, we have traded with the region for nearly 40 years. Having a facility in Berbera will continue to strengthen our business ties with the region. The presence of DP World played a significant role towards encouraging businesses like ours to invest in the region. The Berbera edible oil facility will allow us to manufacture locally, ensuring essential commodities such as edible oil are affordable and freshly available to the locals. Through manufacturing, we can play a role in creating employment and nurturing talent, especially in the skilled and semi-skilled workforce."