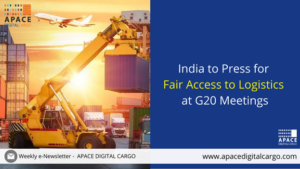 The top agenda item for New Delhi during its G20 presidency would be Fair and Equitable access to logistics for developing nations in international trade, after shocks to global supply chains from the COVID-19 pandemic and Ukraine war drove cargo rates to record levels last year.
In December of last year, India was elected to lead the G20, and this year, it will preside over more than 200 multilateral conferences. Although the presidency comes with no formal authority, it is still going to be crucial in determining the tone of discussions on a global level. Around 80% of the global economy and close to 75% of international trade are contributed by G20 members.
"We have seen that shipping lines are dominated by western countries and shipping containers are with China. We will be taking up accessibility-related issues for developing nations. Logistics should be fair, accessible and equitable. We will focus on how to decrease the logistics costs," a senior government official said. Exporters said they faced severe problems post-covid as overseas freight rates jumped as much as 300-350% from pre-covid levels. Moreover, the lack of containers during the supply chain disruptions caused major challenges.
The Federation of Indian Export Organizations said, "Development of an Indian shipping line of global repute is need of the hour, as exporters are solely at the mercy of foreign shipping lines and the country repatriated over $80 billion as transport services cost during the calendar year 2021." Last year, commerce minister Piyush Goyal had expressed dissatisfaction over the opacity of shipping rates. He also believed that the logistics sector had a lot of leakages and that shipping rates were not transparently announced.
Raajesh Bhojwani, CEO & MD, RBB Ship Chartering Pte Ltd Singapore said, "During COVID-19, shipowners were not willing to come to India. They used to seek a 50% premium. Problem is we have very few shipping lines and we have been dependent on foreign shipping lines. Peak rates from India to UAE was $1200, but now it has come down to $50 due to lack of demand."