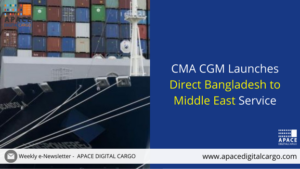 CMA CGM Group announced the launch of a new service, named Bangladesh India Gulf Express (BIGEX). The French shipping firm has announced that it will launch the first direct service connecting Bangladesh with Jebel Ali and Abu Dhabi in the Gulf, as well as Nhava Sheva and Mundra in India. The service, called BIGEX, will commence operations from the port of Chittagong in Bangladesh on April 5.
The westbound rotation will involve three 1,700-TEU vessels traveling from Chittagong (Bangladesh) to Colombo (Sri Lanka), Mangalore (India), Nhava Sheva (India), and Mundra (India). The eastbound rotation will run from Jebel Ali (UAE) to Khalifa Port (UAE). CMA CGM has highlighted that BIGEX establishes the Bangladesh-India-Sri Lanka-Gulf corridor, which will transform Bangladesh's sea route to the Gulf and the West Coast of India.
"Characterised by fast transit times, exports from Chittagong will reach Jebel Ali and Abu Dhabi in just 14 and 15 days respectively. A more efficient and greener alternative to trucking, BIGEX will get Bangladesh shipments to Nhava Sheva and Mundra in 8 and 10 days respectively," pointed out the Marseille-based box line.
According to the carrier, BIGEX plans to expand Chittagong's transshipment connectivity beyond the main Asian ports to encompass the Gulf and West Coast ports of India, which will increase market accessibility and decrease transit times for goods shipped from Bangladesh to the United States via Colombo.