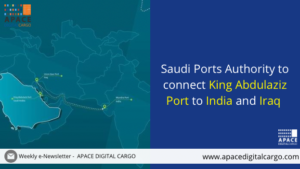 Saudi Arabia announced on 28th February the addition of King Abdulaziz Port to the newly launched India-Saudi-Iraq (ISI) shipping service operated by Singapore based, Bengal Tiger Line (BTL). The ISI service links the Dammam-based hub to the Indian port of Mundra and the Iraqi port of Umm Qasr aboard a 929 TEU vessel.
This new addition is aimed at empowering importers and exporters with best-in-class offerings, the regional route further strengthens the Kingdom's maritime connectivity in its quest to establish itself as the world's leading logistics destination in alignment with the ambitions of the National Transport and Logistics Strategy (NTLS).
A total of five cargo services linking Saudi Arabia to 43 global hubs were added to the rosters of Jeddah Islamic Port, King Abdulaziz Port, and Jubail Commercial Port during January 2023. This announcement comes more than two weeks after MAWANI and Saudi shipping giant, Bahri, jointly announced the addition of a new freight service connecting Europe and Asia via Jeddah Islamic Port.
More recently, MAWANI and Jeddah Chamber of Commerce and Industry agreed to establish an integrated logistics park at Al Khumrah, south of Jeddah.