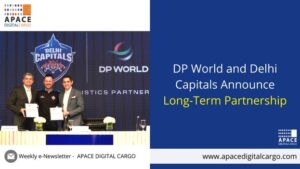 DP World and Delhi Capitals have announced a long-term partnership today which will begin from 1st April onwards. DP World, a leading provider of end-to-end logistics, has become the Global Logistics Partner of the renowned cricket franchise under this partnership.
As part of the multi-year deal, DP World's logo will feature prominently on the back of Delhi Capitals' official match jerseys and training gear. However, this partnership goes beyond just logistics and is built on a shared vision of innovation and high-performance. This aligns well with the ethos of the multicultural city of New Delhi, which is a global hub that connects people across borders, much like DP World.
Rizwan Soomar, CEO and MD India Subcontinent & Sub-Saharan Africa at DP World said, "Cricket has undergone a transformation over the years, with ever-evolving formats unlocking enormous potential for players worldwide and engaging diverse audiences. Similarly, DP World is constantly seeking out new opportunities to revolutionize global trade and open growth opportunities for our customers through innovation. We are thrilled to partner with Delhi Capitals, bringing together two leading organisations ready to push beyond conventional boundaries and change what's possible for everyone."
Dhiraj Malhotra, CEO of Delhi Capitals, expressed excitement about the new partnership and said, "We are thrilled to enter into a multi-year partnership with DP World, a global leader in logistics. It is a privilege for us to have DP World as our Global Logistics Partner, and we are confident that their strong global presence will help us grow the Delhi Capitals brand."
The newly announced partnership with Delhi Capitals is a part of DP World's expanding global cricket sponsorships, which already includes being the title partner of the DP World ILT20 in the UAE, and the naming rights partner of DP World Lions and DP World Wanderers Stadium in Johannesburg. In addition, the company became the title partner of the DP World Asia Cup held in the UAE in 2022.
DP World's partnership with Delhi Capitals is scheduled to commence on April 1, 2023, with the team being led by one of cricket's most accomplished players, Ricky Ponting, in their match against the Lucknow Super Giants. This season will also see Delhi Capitals returning to their home ground, the Arun Jaitley Cricket Stadium, after a gap of three years.