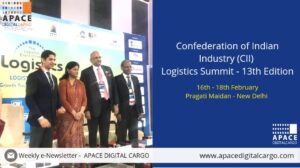 Today, a conference was held by CII Institute of Logistics, in New Delhi, focusing on the 'New Growth Trajectory of Logistics in India'.
Sumita Dawra, Special Secretary, Logistics Division, Department for Promotion of Industry and Internal Trade, Ministry of Commerce and Industry, Government of India during the inaugural address said, "The current plans with regards to the Vision 2047 mission is to become a manufacturing hub to encourage the servicing sector. Last mile connectivity for seamless logistical enabling movement over multi modes of transporting for efficient logistics. PM Narendra Modi launched the Gati Shakti National Master Plan in October 2021, which focuses on the infrastructure gap, ability to plan the upcoming projects, manufacturing clusters and for the economic development and growth. The Gati Shakti Master Plan is simply the foundation for greater logistics efficiency. We have  started working on international benchmarks to improve the standards. We are also going to set up a service improvement group in order to get feedback on how to improve logistics infrastructure and services further."
Bharat Joshi, Co-Chairman – CII National Committee on Logistics and CEO – J Curve Ventures Pvt Ltd, during the welcome address said that the theme for this conference for this year would be to step into the new growth trajectory of logistics in the country. After the 2 batches of digital supply chain, one was in 2021 and then in 2022, the focus now would be on expanding the global footprint along with strengthening the cooperative spirit.
R.Dinesh, President Designate, CII, Chairman – CII – IL Advisory Council and Executive Vice President – TVS Supply Chain Solutions Ltd during the keynote address said, "Today, logistics has become the life blend of manufacturing or even day to day activities. To summarise the progress, firstly, CII is very proud to say that this year we had the National Logistics Policy launched which has been a crowning achievement of not just India as a country, but the fact that The States have also adopted this policy. Secondly, India is the only country for making sure that there's a complete integration of every infrastructure project. Thirdly, the leads index which can set trends for the future of benchmarking how each state is performing with ease of doing business. All this can be really useful once digitisations takes on." He added, "What we need to do now going forward with this is, firstly, the logistics standards. We need to actively engage in ensuring that all stakeholders work together. Secondly, we need to increase and engage outsourcing and 3rd party involvement. Thirdly, to make green logistics the centre stage. Fourthly, integration of first and last mile logistics and lastly, to find a digital solution. "
The first session focused on expanding the global footprint. It highlighted the increasing activities in India in domestic as well as international businesses. To provide world class logistics, reliable infrastructure, safe operating environment, optimised handling solutions and enabling the digital technologies is required. Anil Arora, Member – CII National Committee on Logistics and Founder and Managing Director, Aetos DigiLog ; Anil Ujwal, Managing Director and Head Industrials and Logistics, DC Advisory; Devang Mankodi, Vice President – BusinessTransformation, DP World and ; Keku Bomi Gazder, Board Member – Air Cargo India Forum and Managing Director and CEO, Aviapro Logistics Services Pvt Ltd were the pannel members to discuss on the topic.
The second session focused on strengthening the cooperative spirit. It highlighted the fact that there is a need to to increase cooperation among the logistics stakeholders and reduce the digital divide. Sharmila Amin, Managing Director, Bertling Logistics ; Ashok Gupta, Chairman and Managing Director, IRC Supply Chain Solutions Ltd ; Dushyant Arya, Director, Indo Arya Logistics Ltd and ; Ranganathan Jagannathan, CEO, Pragati Group were the pannel members to discuss on the topic.