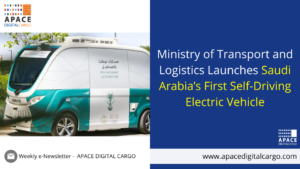 Dr. Rumaih Al-Rumaih, the Deputy Minister of Transport and Logistics, has launched the trial phase of a new autonomous vehicle (AV) called "Dhahaina" or "Smart" at the Riyadh Business Front. The purpose of the launch event was to increase awareness and acceptance of AV technology in society. This launch is just the first step in a longer process that will involve the development of AV legislation, regulations, and supporting systems.
The AV initiative is in line with the Ministry's goal to embrace contemporary transportation systems. During the event, Al-Rumaih emphasized the Ministry's adoption of innovative transportation techniques and plans to utilize advanced technologies in the transportation and logistics industry, consistent with the objectives of the National Transport and Logistics Strategy.
The strategy seeks to provide solutions for smart mobility and anticipate future market development. By launching this trial, the Ministry aims to reduce transport-related accidents and fatalities, improve intracity mobility, and minimize the transportation sector's impact on the environment.
The inauguration took place at the Riyadh Business Front, which is owned by the ROSHN Group. The ROSHN Group takes a unique approach to incorporating modern technology into the integrated communities it is building throughout the Kingdom. It promotes sustainability by providing pedestrian-friendly streets and eco-friendly modes of transportation for commuting within its communities while offering connections to a wide range of public and private transportation options that link its customers to the wider city.
Oussama Kabbani, the Group Chief Development Officer at ROSHN Group, expressed his enthusiasm in collaborating with the Ministry of Transport and Logistic Services, stating, "The 'Dhahaina' initiative is a significant leap in the technical development of transportation in the Kingdom. This trial aligns with ROSHN's commitment to humanizing the civil experience and adapting technology to serve people within the high-quality real estate environments of our communities  across the Kingdom."
In the meantime, Al-Rumaih emphasized that these trials are in line with the Ministry of Transport and Logistics Services' ongoing efforts to collaborate with relevant entities to establish a national regulatory framework for autonomous vehicles. The primary goal is to unify efforts and establish appropriate regulatory frameworks that prioritize user safety, simplify procedures, and attract investors.
The Ministry of Transport and Logistics is committed to enabling various modern technologies in all transportation sectors, including land, rail, sea, air, and logistics services. They plan to develop suitable regulatory frameworks for each technology, conduct phased experiments, empower the private sector, attract investors, and enhance the technical capacity of the workforce through partnerships with universities and educational institutions.