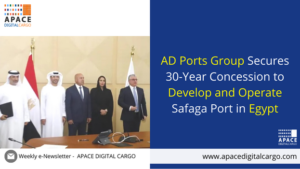 AD Ports Group announced the signing of a concession agreement to build and manage a multi-purpose port in Safaga, Egypt, as well as signing two 15-year agreements, a Memorandum of Understanding, and three Head of Terms regarding ports located in Egypt's Red Sea and Mediterranean regions.
These agreements pave the way for a significant expansion of the Group's activities in Egypt, providing access to multipurpose terminals, cruise routes, and logistics capabilities in six ports across the country. The signing ceremony took place in Cairo and was attended by high-ranking officials, including the Minister of Transport of Egypt and the Managing Director and Group CEO of AD Ports Group.
The 30-year concession agreement between AD Ports Group and the Red Sea Ports Authority will allow the Group to develop and manage a multi-purpose terminal at Safaga Port, a strategic location on the Red Sea coast of Egypt. The terminal will be the first internationally operated port in the Upper Egypt region, providing cost savings to traders, industries, and businesses in the area. The terminal will cover an area of approximately 810,000 square meters and will be operational in Q2 2025. With a quay wall of up to 1,000 meters, it will have the capacity to handle 5 million tonnes of dry bulk and general cargo, 1 million tonnes of liquid bulk, 450K TEUs of containerised cargo, and 50K CEUs of RORO.
AD Ports Group will invest up to USD200 million in superstructure, equipment, buildings, real estate facilities, and utilities networks inside the concession area. The majority of the investment will be made in 2024 and 2025, and there will be no currency exposure associated with the port's operations as all revenues will be dollarized.
Capt. Mohamed Juma Al Shamisi, Managing Director and Group CEO, AD Ports Group, said: "AD Ports Group's significant concession agreement with the Red Sea Port Authority for the development of Safaga Port has the potential to play a major role in the global supply chain, evidencing, once again, that our key strategic partnerships in Egypt drive the advancement of the Group's portfolio of value-added investments. In line with the vision of our wise leadership, AD Ports Group is committed to not only enabling new trade connections, but also to providing strategic infrastructure solutions to boost tourism to aid the diversification of both our nation's economies. As we look to the future, AD Ports Group is proud to continue developing the infrastructure of Egyptian ports and terminals. The significant opportunities we can leverage through our agreements with the Red Sea Ports Authority and the General Authority of Suez Canal Economic Zone will increasingly enhance our commercial offering across the region."
Saif Al Mazroui, Chief Executive Officer of the Ports Cluster at AD Ports Group, said: "As part of AD Ports Group, our Ports Cluster is currently involved in a wide range of projects throughout Egypt, and in particular in Safaga Port. Our expertise as facilitators of global trade, as well as developers and operators of strategic port infrastructure projects, combined with Safaga Port's strategic location on the Red Sea, means that we are uniquely positioned to deliver activities from managing port and logistics operations to providing tourists with access to Egypt's fascinating history and culture, This will lend support to and promote the growth and diversification of the Egyptian economy."