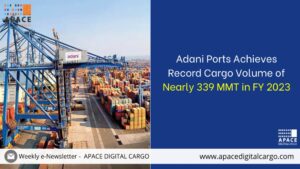 Adani Ports and Special Economic Zone Ltd (APSEZ) has reported its highest-ever cargo volume of 339 million metric tons (MMT) between April 2022 and March 2023. The company's 13 ports recorded a growth of 9.5% in March, handling 32 MMT of cargo, the first time volumes have crossed the 30 MMT mark since July 2022.
However, despite this achievement, the cargo volume in FY23 was lower than that of FY22. Adani Ports recorded a YoY growth of 26% at 312 MMT in FY22, up from 247 MMT a year earlier. Nevertheless, APSEZ has outperformed India's cargo volume growth and increased its market share over the years.
The overall container volumes handled by APSEZ in India increased by 5% YoY to 8.6 MTUs, including 6.6 MTEUs at Mundra alone. The seaport handled a total of 155 MMT of cargo during the year, further highlighting the company's growth in the industry.
Adani Ports and Special Economic Zone Ltd has achieved a significant milestone with its highest-ever cargo volume of 339 MMT in the past year, despite the lower cargo volume in FY23 compared to FY22. The company's growth is a testament to its position as a leading player in the industry, outperforming India's cargo volume growth and increasing its market share over the years.
"The APSEZ's flagship port, Mundra, is outpacing all its closest rivals and continues to be the largest port in the nation in terms of volumes handled. Mundra's infrastructure meets world standards and provides service levels on par with those of its global competitors, making it India's gateway for container goods," said Karan Adani, CEO and Whole Time Director, APSEZ.
On the logistics business segment side, the company said its logistics had a good year. "Mundra handled the deepest container vessel – MSC Washington with an arrival draft of 17.0 meters – ever handled by any Indian port, and the largest vessel, MSC Fatma, with a vessel length of 366 m and carrying capacity of 15,194 TEUs. The port also docked its first LNG-fueled vessel, Aframax Crude Oil Tanker, at its SPM facility. The draft is 14 meters long with a total displacement of 1,26,810 MT," the company said.