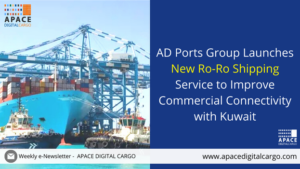 AD Ports Group today announced the launch of a new direct shipping service dedicated to Ro-Ro, between UAE's Khalifa Port and Kuwait's Shuwaikh Port. The new service aims to improve commercial connectivity and facilitates trade with Kuwait.
Captain Ammar Mubarak Al Shaiba, Acting CEO, Maritime Cluster and SAFEEN Group said, "As the region's premier facilitator of logistics, industry, and trade, AD Ports Group is committed to utilising its integrated logistics capabilities to meet customers' requirements, help grow their businesses, and facilitate their access to their target markets with competitive rates and reduced time through Khalifa Port, the strategic gateway to Abu Dhabi."
In recent years, the two GCC countries have experienced a substantial increase in their long-established bilateral trade relationship, particularly in key commodity markets. According to preliminary data from the Federal Competitiveness and Statistics Centre, non-oil trade exchange between the two nations rose by 13% in 2022, reaching AED 43.5 billion compared to AED 38.5 billion in 2021. Moreover, the value of non-oil exports to Kuwait increased from AED 12.7 billion to AED 14.2 billion, while re-exports to Kuwait rose from AED 20.9 billion to AED 21.9 billion. This coincided with an increase in imports to the UAE from AED 4.9 billion to AED 7.3 billion.
The volume of trade exchange between the UAE and neighbouring countries has also grown significantly in recent times, thanks to comprehensive business agreements and strategic partnerships, including those with Egypt, Jordan, Iraq, and Turkey, which AD Ports Group has signed.