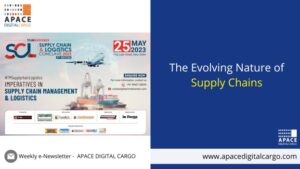 The 2nd edition of the Supply Chain and Logistics Conclave looks to scrutinise the disruptions and trends in this ecosystem, and chart a way forward.
Systemic shocks delivered over the past few years have jolted industries and societies awake, and these unprecedented changes have forced us to pause and rethink the best laid plans. Even as the World Health Organisation declared the COVID-19 emergency over, the questions posed by the pandemic remain. And that's before you consider some of the other left-field events we have seen in recent years, such as the Suez Canal blockage and the war in Ukraine. So while it can be said that the worst of the supply chain disruptions seen in recent years are easing, challenges known and unknown are constantly emerging.
These include:
○
A slowdown in global trade growth from 6.0% in 2021 and 3.2% in 2022 to just 2.7% in 2023, according to
the Inte
rnational Monetary Fund
○
Continued high energy prices that
the World Bank says 
will be 50% above their five-year
average through to
2024
○
Rising inflation and interest rates that
Fitch Ratings notes 
are rising faster than expected
○
Shortages of skilled workers and raw materials, which
the OECD says
will persist this
year
○
Weather events such as hurricanes, floods, and droughts, which
McKinsey points out
are increasingly disrupting global supply chains
○
Geopolitical tensions and civil unrest, which
S&P Global Market Intelligence predicts
will become even more pronounced in 2023
○
Greater push for sustainability, for example with the
European Union sustainability disclosure rules
and
new energy requirements
set by the International Maritime Organisation's MARPOL convention – both effective from 1 January 2023
These happenings, and others, might well continue to define organisational and supply chain strategy in 2023. Preparing for all these scenarios is virtually impossible, but knowledge is a powerful tool with which one can navigate these changing contours. In today's volatile global environment, up-to-date knowledge of end-to-end Supply Chain Management has become increasingly important.
A roadmap to re-invention
As global trade slows down noticeably and with energy prices and inflation on an upward trajectory, it is all the morechallenging to run an efficient supply chain. Ensuring your supply chains are resilient will help organisations to not only survive, but thrive, and capable of responding to situations quickly and effectively.
The 2nd annual edition of the Team Marksmen Supply Chain and Logistics Conclave, to be held in The Lalit, New Delhi on May 25th, will look to provide a platform for stakeholders in India's supply chain and logistics ecosystem to convene and deliberate on how to navigate the challenges of today's complex supply chains.
This one-of-a-kind platform will discuss the best practises for creating a sustainable supply chain, addressing talent gap in the supply chain and logistics sector, navigating complexities of logistics infrastructure, automation and supply chain resilience. In addition, a power-packed line-up of speakers will also highlight use cases on how India Inc. is implementing process automation, advanced technologies, and decision-making analytics at various stages of supply chain and logistics.
The conclave aims to foster deep learning and the exchange of ideas about the latest developments in Supply Chain Management for senior leaders, as well as future and aspiring leaders in Supply Chains.
With a line-up of industry experts and seasoned veterans, the audience can look forward to insights across topics such as:
●
Building agil
ity and resilience in supply chains
●
Sustainable supply chain initiatives undertaken by India Inc.
●
Government's initiatives to bolster India's logistics
ecosystem
●
Noteworthy technological innovations
●
Skill Development in the Supply Chain sector
●
Factors driving excellence in supply
chain
Speaking ahead of the event, Sharad Gupta, Co-Founder & COO, Team Marksmen Network said, "When change is the only constant, preparing your supply chains to manage this flux can be a significant competitive advantage. Now in its second edition, the Supply Chain and Logistics Conclave aims to help industry practitioners of all statures to set themselves up for success, and highlights the overarching themes they need to get right, such as building capabilities, resilience, agility, and long-term visibility. Now more than ever, managing the unexpected is par for the course for supply chain professionals, and through this platform we aim to equip leaders with the knowledge needed to traverse this tricky terrain appropriately, efficiently, and profitably."