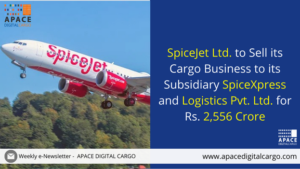 SpiceJet Ltd., a low cost airline had agreed to sell its cargo business to its subsidiary – SpiceXpress and Logistics Pvt. Ltd. for an amount of Rs. 2556 crore through a slump sale. On Monday, the subsidiary will issue equity shares and compulsorily convertible debt, or CCDs, to SpiceJet for the transfer. The cargo business will be exclusively handled by SpiceXpress starting 1st April, 2023.
"As a part of ongoing restructuring with aircraft lessors Carlyle Aviation Partner (or its affiliated entities) and other aircraft lessors, all these CCDs will be transferred to those aircraft lessors who agree to exchange their lease liabilities for an aggregate amount equivalent to the total nominal value of such CCDs," the airline said in an exchange filing after the board meeting on Monday.
The board also approved the conversion of liability into equity for the aircraft lessor, Carlyle Aviation Partners, the commercial aviation investment and servicing arm of Carlyle's $143 billion Global Credit platform. The aircraft lessor can convert lease liabilities of an amount up to $29.5 million (approximately Rs 244 crore) at a price of Rs 48 per share.
"Carlyle Aviation Partners picking up a stake in our passenger and cargo business reinforces the huge potential of SpiceJet and SpiceXpress," Ajay Singh, chairman and managing director of the airline, said in a statement. "The transaction will substantially deleverage our balance sheet, thereby allowing us to access fresh funds at a competitive rate, and we aim to follow suit with other lessors as well in the near term."