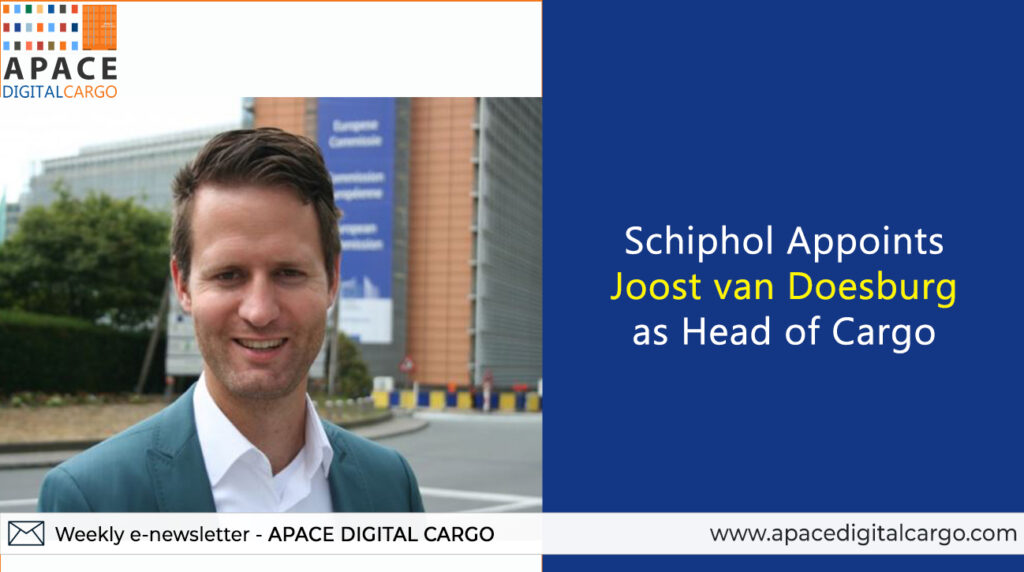 Royal Schiphol Group appointed Joost van Doesburg as head of cargo. He will be starting his role in March as he replaces Anne Marie van Hemert. The appointment of dedicated head of cargo was in line with the wishes of the Air Cargo Netherlands Group.
The Royal Schiphol Group said, "Van Doesburg will focus entirely on cargo, has extensive experience in the air cargo sector and is very well informed about everything going on at and around Schiphol. Van Doesburg will focus on ensuring that cargo retains an important position at Schiphol."
"Cargo is hugely important for Schiphol and the Netherlands. We are convinced that Joost will successfully represent the interests of the air cargo sector. We have had many discussions over the years, but the common denominator was always that we want to make Schiphol a better place for employees and for the Netherlands." said Patricia Vitalis, director of airport operations and aviation partnerships.
"In his role at evofenedex, he strongly defended the interests of shippers, regularly expressing constructive criticism about the Dutch airfreight chain. In his time at VNV, we were on the same side of the table in the process of drafting the Ministry of Infrastructure and Water Management's Air Freight Memorandum. As Schiphol campaign manager at FNV, he vigorously defended the interests of employees at Schiphol. His transfer from the FNV to the Schiphol Group was therefore quite a surprise for us." commented on the appointment, Maarten van As, managing director of Air Cargo Netherland.
"Together with the air cargo community at Schiphol, I want to start working on accelerating innovation, sustainability and customer experience to strengthen Schiphol's position as Europe's preferred airport. Over the past four years, as a trade union leader at the airport, I have critically monitored Schiphol Group on numerous issues. With the conclusion of the social agreement in June 2022, a big step was taken towards an airport with more consideration for the well-being, terms and conditions of employment and working conditions of its thousands of indispensable employees. This change has made my transition possible." said Van Doesburg.