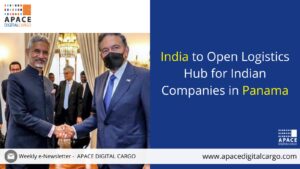 India is exploring the possibility of opening a logistics hub for Indian companies in Panama, External Affairs Minister S Jaishankar has said, asserting that the country's trade with Latin America is growing and nearing $50 billion.
The Minister arrived in Panama on April 24 from Guyana. He called on President Nito Cortizo and conveyed the personal greetings of Prime Minister Narendra Modi to him.
"His strong resonance with PM Modi's "Panch Prann" reflects the strength of our Global South bonds and shared outlook for the world. Valued his guidance for advancing our bilateral and multilateral partnership," Mr. Jaishankar tweeted.
Mr. Cortizo said, during their meeting, they talked about the will to make an alliance with the Indian pharmaceutical industry to achieve quality, effective and cheaper medicines for Panamanians.
"It fills me with joy to receive my counterpart @DrSJaishankar at the Bolívar Palace. Accompanied by a high-level delegation from the National Government, we share the progress and potential of our country as an energy and logistics hub and as a strategic business and investment point," Ms. Mencomo tweeted.
Panama has positioned itself as a major logistics hub in Latin America.
Ms. Mencomo said her meeting with Jaishankar was an opportunity to discuss the issues on the common agenda and strengthen the bilateral relationship based on shared values.
"It was a pleasure to welcome all the participants of the LAC-India Business Forum, an initiative that promotes the development and economic dynamism between our region and the fifth largest economy in the world. We promote Panama as a strategic point for trade and investment," she tweeted.
Mr. Jaishankar also delivered the keynote address at the India-Latin America business event here on Monday.
In his address, he chalked out ten reasons why India's business collaboration with Latin America has strong merits and endeavours.
"Nearing USD 50 billion, India-Latin America trade has a much-diversified basket. Significant increase in investments and interest in mining, energy, agro and infrastructure sectors will power it further," he said.
The Minister said that as the fifth-largest economy, India's presence across the world is steadily growing, with transformation in manufacturing, infrastructure, innovation, and start-up culture within the country being game-changers.
Mr. Jaishankar said that by providing vaccines to 100 countries and medicines to 150 countries, India's description as the "Pharmacy of the World" is welcomed by all.
The long-awaited reforms in India have led to record Indian exports, he said, even as he hailed Latin America as an attractive market. A robust digital backbone in India allows the delivery of public goods and tools for business, he said. Manufacturing pickup via Production Linked Incentives and support to vendor chains and MSMEs. Indian products are a natural fit for the Latin American middle class, Mr. Jaishankar said.
Indian project execution has grown across geographies, and Made in India and Delivered by India are globally becoming realities, he said.
Indian agriculture is making strides in yields, quality, and technology. This has external implications, he said.
"Indian talent & skills consider the world as a workplace today. Initiatives like Skill India, Startup India and New Education Policy are a part of this mosaic," he added.
Mr. Jaishankar also met Indian-origin members of the National Civil Protection System in Panama.
After his visit to Panama, Jaishankar will visit Colombia, where he would be meeting several top leaders of the country and reviewing bilateral ties with his Colombian counterpart Alvaro Leyva Duran.
On Monday, Mr. Jaishankar joined President of Guyana Irfaan Ali at the commissioning of an India-made ferry which would enhance connectivity and provide mobility and economic opportunities in the country's distant hinterlands.
Mr. Jaishankar is on a nine-day trip to Guyana, Panama, Colombia, and the Dominican Republic, his first visit as the external affairs minister to these Latin American countries and the Caribbean.