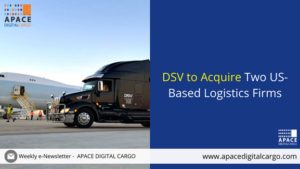 On 21st March, DSV, a Denmark based logistics giant, reached agreements to acquire US-based transport and logistics companies S&M Moving Systems West and Global Diversity Logistics.
DSV's acquisition of S&M Moving Systems West and Global Diversity Logistics is expected to enhance the company's presence in the semiconductor sector, complement its operations at Phoenix-Mesa Gateway Airport, and bolster its cross-border services to Latin America. The transactions are slated for completion in April 2023, subject to completion of all legal formalities.
S&M Moving Systems West and Global Diversity Logistics, which are owned by the same family, are headquartered in Phoenix and Chandler, Arizona. They have a workforce of 130 individuals and operate across 11 locations in Oregon and Arizona. The companies offer a range of services, including domestic road freight, international air and sea freight, warehousing, trade show logistics, and specialized solutions for the semiconductor industry.
"We have a strong presence in the US, and these acquisitions underline our continuous commitment to strengthening our US position, competencies and service offerings. They also provide access to a strong heritage and a wealth of knowledge and experience in the semiconductor industry. DSV will approach this integration with integrity, transparency and respect for both organisations and the people in them. We are now looking forward to embarking on this new chapter, welcoming our new colleagues to DSV and working together towards future growth for our customers and DSV." says Niels Larsen, President DSV Air & Sea US.
"What started with a single truck over 100 years ago has evolved and grown significantly. As a family-run business, we have strong values, dedicated employees and a focus on excellent customer service, which is a shared core value with DSV. I am proud of what we have achieved and excited for this new chapter of our story with DSV," says Steve Todare, President S&M Moving Systems West.
"We have now become part of the third largest global logistics provider and gain access to an extensive network, digital platforms and comprehensive service offerings. This will enable us to continue to support our customers by enhancing our existing solutions and capabilities. We're looking forward to joining DSV and bringing together our expertise, assets, and not least, our talented people," says Brooke Todare, President, Global Diversity Logistics.
"As a result of these acquisitions, we will be gaining 130 new colleagues, additional transport assets and over 1 million sq. ft of logistics centres. This will strengthen our US operations and provide the potential to develop our contract logistics business further in these regions," says Michael Marlow, President, DSV Solutions US.